Samsung on Wednesday offered a glimpse at its 2008 second-half digital camera line-up — four new compact point-and-shoot models that will be on store shelves in September. All the new cards write to SD/SDHC flash media cards and also connect to a host Mac or PC using USB 2.0.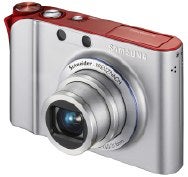 The TL34HD has a 14.7 megapixel resolution and 28mm wide-angle lens with 3.6x optical zoom. It can capture digital video at 720P and sports dual image stabilization, but measures 3.68 x 2.34 x 0.80 inches. It's available in black or silver with a red accent, and has a 3-inch LCD touch screen. It's priced at $329.95.
The TL9 is a 10.0 megapixel camera with 2.7-inch LCD, 5x optical zoom and dual image stabilization. It features MP3 and Personal Media Player (PMP) capability, and measures 3.74 x 2.36 x 0.84 inches. Dual analog gauges have been placed next to the power button on top of the camera's body, and they display remaining battery life and memory capacity. It's priced at $279.95.
The SL310W has a resolution of 13.6 megapixels and a 2.7-inch LCD, dual image stabilization and a 3.6x optical zoom mated to a 28.mm wide-angle lens. It incorporates 11 scene modes for easier shooting along with auto red eye fix and MPEG-4 video shooting capability. The SL310W costs $229.95.
The SL201 rounds out Samsung's new offerings. It has a 10.2 megapixel sensor, 3x optical zoom and 2.7-inch LCD, 11 scene modes, digital image stabilization and a built in Photo Help Guide to assist you in taking better photos. It will cost $169.95.
Samsung's Web site had not been updated with information on the new camera models as Macworld posted this article.