And the skirmish between Apple and Adobe continues with the iPhone 2.0 software. There's been a lot of back and forth about Flash support for the iPhone, with Apple remaining unwilling to allow Adobe to play in the iPhone sandbox, while simultaneously doing everything they can to make iPhone users realize that they really don't even need Flash.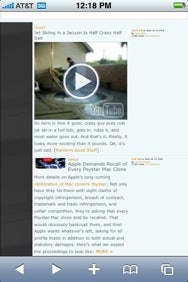 So, what's among the most popular uses for Flash on the web? Watching video! And what's the most prevalent source of Flash video? YouTube! Of course, you've always been able to fire up the iPhone's YouTube app and gorge yourself on enough 1980s cartoon openings to trigger a temporal shock crisis, but now Apple's added a handy little feature that makes it possible for you to watch YouTube videos embedded in web pages. Sort of. As Gizmodo points out, what happens is that you tap on an embedded YouTube video, and it launches the iPhone's YouTube application and plays said video.
It's a nice way to bridge the gap, and it's a little surprising that it wasn't there before. But there are downsides to the implementation: for example, you get kicked out of Safari and have to go back into it. And, more importantly, it only works with embedded YouTube videos. Which may be the most common form of Flash video, but is certainly not the only kind you're likely to run into (Macworld's own video podcasts for example, are embedded in a custom flash player, but are also available on YouTube and in a iPhone-compatible QuickTime format, if you happen to be so inclined).