Ever find yourself in an unfamiliar neighborhood when hunger pangs set in? Tired of eating at the same old neighborhood places over and over again? Try your luck with the Urbanspoon iPhone app. This quirky program, derived from the Urbanspoon Web site—which aggregates restaurant reviews from newspapers, bloggers, and diners—puts a Vegas spin on selecting a nearby eatery.
Launch Urbanspoon and wait a moment while the program use the iPhone 2.0 software to pinpoint your current location. You can also choose another city if you want to search elsewhere: There's a button that says Or Choose Your City—tap on it, and you get a list of 52 cities to choose from. The next screen resembles a slot machine with three spinning wheels: one filled with nearby neighborhoods, another with food categories, and a third with prices ranging from one to four dollar signs. (The more dollar signs, the pricier the menu items.)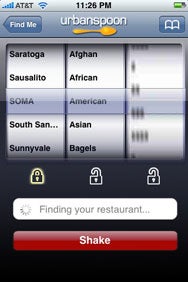 Now comes the fun part. Gently shake your iPhone and the wheels start spinning. (There's also a Shake button to tap if you're too weakened by hunger pangs to exert the effort.) When the wheels stop, you'll be given the name of a recommended restaurant that fits the selected criteria. Don't like the result? Shake again. Tap on the blue arrow to the right of the restaurant's name to get the phone number, address, and the percentage of Urbanspoon reviewers who gave it a positive review. Tapping on the address brings it up in the Maps program. Tapping on More Info brings up the restaurant's Urbanspoon Web page so you can read individual reviews. You can also e-mail the restaurant's info to yourself or to a friend.
If the idea of leaving your picks to pure chance doesn't appeal to you, use the Lock icon to specify certain parameters. For example, you can lock down a specific neighborhood and price and leave the type of food to chance. The bookmark icon will bring up a list of all restaurants that came up during the current session so you can go back after trying your luck a few more times.
Urbanspoon is a great idea for adventurous diners and a lot of fun to play with. However, I wish there were a way to turn off the slot-machine sound effects—right now, the only way to mute them is to lower the ringer volume on your phone, not an optimal strategy.
A more serious flaw is that the app forgets your settings and restaurant suggestions any time you switch to another app, including Maps. This means you'll need to e-mail restaurant suggestions to yourself before you leave Urbanspoon, or try to map the restaurant's location. (E-mailing will also give the app a case of amnesia, but not until after your e-mail has gone through.) It's an unfortunate omission in an otherwise smart and interesting program, but the developer says Urbanspoon is working on a fix for those issues in future versions.
Urbanspoon is compatible with any iPhone or iPod touch running the iPhone 2.0 software update.
[Kelly Turner is a Macworld senior editor.]