As much as people make fun of me for turning to my iPhone for the weather ("why don't you just look outside?"), it's helped me avoid any number of climate-related mishaps. Wearing jeans in 95° heat, for example. Or remembering to bring a raincoat to the baseball game. But for those interested in the finer details of meterology, the built-in Weather app sometimes falls a bit short.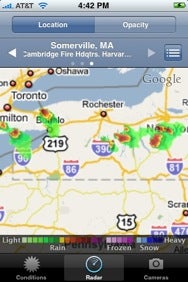 There are any number of weather programs available on the App Store (I count eight as of this writing), but WeatherBug is arguably the most prominent (as well as one of the cheapest). Long popular as a Windows desktop app, WeatherBug also makes an OS X Dashboard widget and menubar application. Last year, the company created a Web application aimed at iPhone users. So it's little surprise that they've decided to jump on the native application bandwagon.
The iPhone version of WeatherBug allows you to track weather in three different locations around the world, which you can enter via ZIP code, city and state, or city and country. WeatherBug can also take advantage of the iPhone's location services to add your current location. For most locations, WeatherBug will give you a list of weather stations it knows about in the vicinity, along with information about how close they are to the target you specified.
Once you've picked your locations, WeatherBug provides detailed reports on current conditions at the weather station, including temperature (only in Fahrenheit; there's no option for Celsius), highs and lows, precipitation, wind speed, heat index, humidity, and dew point. There's also a three-day forecast with highs and lows and an icon representing general weather (sunny, cloudy, rainy). Tapping on any of the days will display a written mini-forecast for that day, along with arrows that let you view consecutive days. Though the main screen displays only the next three days, using those arrows allows you to go up to a week in the future—but that feature isn't immediately obvious; I found it by chance.
You can also switch back and forth between the locations you're tracking using the arrows next to the location names. I often found these controls to be unresponsive, requiring repeated taps before registering; it would have been nice to be able to swipe back and forth to view different locations, as Apple's Weather application allows you to do. Also, some weather station or place names are too long and get cut off or bleed into the adjacent location descriptions.
The second button on the toolbar lets you switch to the Radar mode, which gives you maps of the locations that you have chosen and displays the current weather radar. Though this is the coolest feature of WeatherBug, it is unfortunately also by far the buggiest.
As in the forecast section, you're suppose to be able to toggle through to the radar maps of your different locations. But in practice, it doesn't really work that well. WeatherBug seems to overlay its radar data on a Google Maps interface, but the maps didn't line up with the locations I was tracking (by default, they started out zoomed to a level that showed the entire world—hardly useful). And when I maintained multiple locations in the U.S., the map did not shift as I switched locations, but rather stayed fixed on the first location (though you can pan around with your finger, just as in the Maps application).
Things got even more unpredictable when I added international locations to the mix, as they do not use Google Maps, but rather rely on static images retrieved from the Web. That's fine, but occasionally switching back and forth between U.S. and international locations would cause WeatherBug to have conniptions; it would start flipping back and forth by itself.
When you do manage to find your location, the radar is pretty neat. The program provides a key at the bottom that tells you what kind of weather you're looking at, and there's even a slider for adjusting the radar layer's opacity (so you can still see what location you're looking at, even if it's obscured by heavy rain).
The final section, Cameras, is supposed to let you view webcams from your corresponding locations. Again, I ended up with mixed results. For my location near Boston, I got a nice view of Fenway Park, as well as some other cameras in the greater Boston area. For places that apparently don't have cameras, WeatherBug will instead show you locations in Maryland, near their headquarters. Fascinating, I'm sure, but not particularly useful.
Since WeatherBug is free, you might argue that you're getting what you paid for. But personally, I think the application less useful than the combination of Apple's own Weather application and AccuWeather.com's iPhone Web app. If WeatherBug comes back and fixes some of these issues in future versions, then it may be worth revisiting, but right now it's hard to recommend.
WeatherBug is compatible with any iPhone or iPod touch running the iPhone 2.0 software.