While there are quite a few full-blown to-do managers and Getting Things Done applications for the iPhone, I was looking for a simpler tool for keeping track of all the tidbits that come to me when I'm out and about with my iPhone. Given that I'm relatively cheap by nature, I was also looking for something free. After browsing the App Store, I came across Jott, which promised to let me tap the screen to start recording my voice. After using it for a bit, though, I found it's much more than just a simple voice recorder.
Jott makes it simple to record your voice with a couple of taps. You can then categorize those recordings into groups, and easily mark them as completed with a swipe of your finger. What wasn't apparent to me, though, is that Jott on the iPhone is tightly coupled to the Jott Web service—you'll need a free Jott account to use the program. After speaking into your iPhone to create a note, the note is sent to Jott's server, where the audio is converted to text, then synched back to your iPhone. In my testing, this worked accurately and well, though sometimes my iPhone displayed only a "waiting on transcription" message, and sometimes I saw that message twice for a recording I made only once. A planned update promises to address these bugs.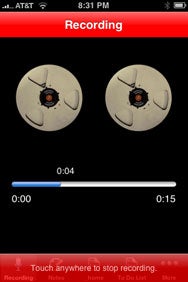 Beyond the Jott application, you can use Jott's toll-free number to speak tasks you'd like to have done, including things like searching Amazon with results sent to your e-mail account); creating blog entries on various services; sending a message to Twitter; sending reminders to yourself; and much more. Jott converts your voice to text and then uses that text with the service you specified.
The Jott application doesn't talk to the iPhone's calendar, unfortunately, so you can't connect a note to a calendar item. You also can't directly send a Jott-created note out via e-mail on the iPhone. (You can, however, enable an auto-e-mail feature on Jott's Web site.) Just being able to access your iPhone-created notes from anywhere you've got a phone or internet access is a great plus, and the program is simple to use. While I probably wouldn't trust my company's confidential data to an online service that transcribes audio to text, for simple reminders and voice-driven tasks, Jott is an app worth considering.
Jott is compatible with any iPhone or iPod touch running the iPhone 2.0 software update.