GelaSkins is offering new protective, decorative skins for the iPhone 3G. They've also launched a new iPhone-optimized Web site to make it easier to download wallpapers to match.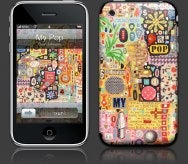 GelaSkins offers dozens of decorative skins that cover the backs of iPod touches, iPhones and iPhone 3Gs (as well as laptop Macs, iPods and other devices). The protective covers measure less than 2mm thick and are made of a 3M vinyl material.
GelaSkins sports designs licensed from artists far and wide — everyone from modern pop artists like Bob Dob and Nathan Ota to classic designs from MC Escher, Vincent Van Gogh and Hieronymous Bosch.
The company also offers wallpapers to match the skins. By visiting the new iPhone-optimized site, you can download wallpapers directly your iPhone or iPod touch.
GelaSkins cost $14.95 each, and if you buy three you can get the fourth for free.