Digital Signature has introduced its Mint 220 Digital Music Station for the Mac and PC. The speaker feature wireless capabilities and a built-in iPod dock. They cost $179.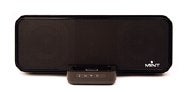 The system connects to a Mac or PC using a USB transmitter and works up to 45 feet from the host system by using 2.4GHz wireless streaming technology. The speaker system is integrated — it contains two 3.5-inch Peerless transducers in a single case that also features a universal iPod dock/charger.
A remote control lets you power the unit on and off, select the source, control volume and EQ settings and mute.