By now, you've probably heard about the handy little trick you can do with Safari's ".com" key in the iPhone 2.0 software. If you've missed out, it's simple: hold down the .com key and you'll be presented with options for a number of other common top-level domains (TLDs): .org, .edu, and .net (in other Internet-address fields, such as a To: recipient in Mail, you can hold down the period key for the same options).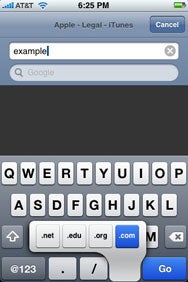 However, what you may not know is that different countries get different options. Go into Settings: Keyboards: International and enable whichever other languages you'd like. Then pop into Safari and tap in the URL field. You can switch keyboards by hitting the globe button to the left of the spacebar, which itself will be replaced for a moment by a label for the keyboard you've selected.
Now tap and hold down the .com button and you'll usually get the country TLD as an option, along with potentially some others (note that in some keyboard layouts, the .com key doesn't appear in the same place; you may have to tap the 123 key first). Here's a full list of what shortcuts are available with the various keyboards, in addition to .com:
Danish: .org, .nu, .dk Chinese Simplified (Pinyin): .org, .sg, .cn Chinese Traditional (Pinyin): .org, .hk, .tw Dutch: .edu, .org, .nl English (U.K.): .edu, .org, .co.uk Finnish: .edu, .org, .fi French: .edu, .org, .fr French (Canada): .edu, .org, .ca German: .edu, .org, .de Italian: .edu, .org, .it Japanese (QWERTY/Kana): none Korean: .ac.kr, .or.kr, .kr Norwegian: .edu, .org, .no Polish: .edu, .org, .pl Portuguese (Brazil): .edu, .org, .br Portuguese (Portugal): .edu, .org, .pt Russian: .edu, .org, .ru Spanish: .edu, .org, .es Sweden: .org, .nu, .se
Unfortunately, languages with a large number of countries don't get shortcuts for all of those countries: for example, Spanish will only ever give you .es as an option, even if you specify your location as Mexico under Settings: General: International: Region Format. It looks like poor Canada is left out in the cold again.