At a Glance
Expert's Rating
Pros
Merges bookmarks
Blocks unwanted Internet content
Can schedule tasks to run automatically
Securely deletes files
Protects against some phishing attempts
Cons
Doesn't remove Mail attachments from IMAP/MobileMe accounts
Can't unblock individual Flash items on the fly
Doesn't delete Skype transcripts
Produces many false positive warnings
Can't search cookies or browsing history
Our Verdict
As you use the Internet, traces of your activities build up on your Mac in the form of things like cookies, caches, entries in your browser history, transcripts of instant messaging chats, and e-mail attachments. Smith Micro's Internet Cleanup provides a suite of tools to help you locate and delete such data to protect your privacy, which is especially important if you're using a shared computer. Several additional tools in the package protect your Mac against certain kinds of spyware, hacking, and other threats.
Internet Cleanup comprises 12 task-specific modules, plus a system-wide menu that lets you enable or disable certain features on the fly and a scheduling component that lets you set almost any of the suite's activities to run automatically with the options you select. The main Internet Cleanup window gives you access to any of the modules with a single click.
The modules for deleting cookies, your browsing history, and other Web data are similar in that they let you manage the files for all your browsers in a single location. If you delete all of a certain kind of data (for example, all cookies), you can also securely overwrite the data. Internet Cleanup can mark cookies from any given domain to be deleted automatically each time the program runs.
But if you use one browser most of the time, Internet Cleanup is barely more convenient than most browsers' built-in tools for managing this data, and perhaps less so-it doesn't, for example, give you any way to search hundreds of cookies or visited URLs other than providing a list that you must scroll through manually. And the program provides no clues as to which of the items in that list might be especially sensitive or in need of deletion.
The Bookmark Manager, new in version 5 of the application, lets you synchronize bookmarks among multiple browsers and optionally check the URLs to make sure the Web pages still exist. These are both handy capabilities, though it would be more helpful if the program went an extra step and helped you identify and cull old or irrelevant bookmarks. Bookmark Manager supports most popular browsers, but did not work with the late June release of Firefox 3.0. (The company said that Firefox 3 compatibility is planned for a future version.)
Internet Cleanup can delete the log files (or transcripts) from any of eight instant messaging programs-including iChat but, curiously, not Skype. It can also delete e-mail attachments from Mail, Entourage, Eudora, or Thunderbird, according to rules you specify (for instance, you can mark attachments over a certain size or created before a certain date for deletion). Unfortunately, when testing this feature with Mail, I found that it ignored my IMAP and MobileMe accounts, and found only attachments stored locally on my Mac. The company is aware of this issue and is looking for a way to resolve it.
The Secure Delete feature is similar to the Finder's Secure Empty Trash command, except that you can choose to overwrite files up to 40 times. A Simple File Hider module-new in version 5-lets you easily set or remove a flag that makes files or folders invisible in the Finder; this provides minimal protection at best, however, because the files are still visible in Terminal and many file-browser utilities. The new Device Sentry module prevents any external storage device, such as a USB flash drive, from mounting without an administrator's password.
The remaining three modules protect against various sorts of unwanted network activity. NetBlockade lets you selectively block annoying Web features such as pop-up windows, some (but not all) advertisements, and Flash content. The feature works well for the most part, but I wish it were more convenient. For example, if you want to view a particular blocked Flash movie, you can't just click a button in your browser; you have to either turn off NetBlockade or go back to Internet Cleanup to modify its settings. Although Internet Cleanup offers keyboard shortcuts for temporarily disabling Flash blocking, this feature is broken as of this writing (the company is aware of the issue), and even if it were working, it would affect all Flash blocking, not just a particular Flash element or domain.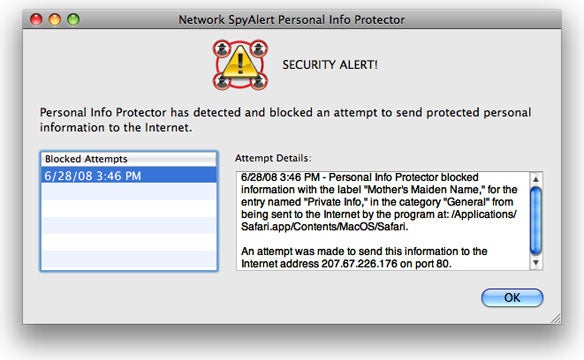 The SpyAlert feature searches your entire hard disk-very slowly-for suspected spyware. There being so little of it on the Mac, there will likely be nothing to find. Network SpyAlert, on the other hand, watches all your applications and alerts you when any of them send data over the Internet, optionally showing you exactly what data is being sent and received. Although this could in principle identify spyware in action, in reality it'll mostly annoy you with a string of alerts asking for permission to do perfectly legitimate things like visit Web pages and check for software updates. In addition, in the case of Java-based software, it doesn't identify a specific program, indicating only that "java" wants to access the Internet, which is unhelpfully vague. Personal Info Protector, part of Network SpyAlert, lets you define important strings like credit card numbers and passwords, and blocks any Web browser from sending them over an unencrypted connection-an interesting approach to avoiding some phishing scams.
Macworld's buying advice
If you use several browsers and prefer to delete all traces of your Internet activities en masse, Internet Cleanup can make the job much easier. But many of Internet Cleanup's more granular capabilities are already built into your favorite Web browser or into OS X itself. The other features are a mixed bag: several are reasonably good, some seem incomplete, and a few may strike you as more irritating than the threat they're supposedly protecting against.
[Joe Kissell is the senior editor of TidBits and the author of numerous e-books about OS X.]