When a picture alone doesn't quite say enough, Plasq's Comic Touch app lets you jazz up the photos on your iPhone or iPod touch with funny effects and captions. The program is a bite-sized version of Plasq's excellent Comic Life ( ), which creates custom comic strips from your digital photo collection.
Comic Touch lets you work with any image in your iPhone or iPod touch Photo Library or you can use it on a new snapshot with the iPhone's built-in camera. Want to give your boss an extra large head? The Effects section of lets you apply one of five fun-house distortions borrowed from OS X's Photo Booth program: Bulge, Dent, Squeeze, Stretch, or Light. (You're limited to using just one effect per image.) Dragging one finger across the screen will reposition the effect. Using a two-finger pinch or expand motion will change the size of the effect. And all motions are accompanied by a funny—but thankfully subtle—sound effect similar to rubbing a balloon.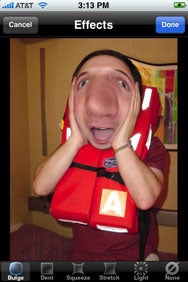 To add words to your photo, choose from one of four balloon styles—Speech, Thought, Whisper, and Exclaim—or a boxed caption. You can reposition the trailing end of the thought or speech balloon by simply dragging it in the direction you want. It will pivot and stretch as needed. Double-tap on it to edit the text. You can specify the text's font size—you get five options ranging from Small to Giant—or change the colors from black-text-on-white to white-text-on-black. Just don't get too wordy. The caption box doesn't wrap your text, so you'll need to keep it short or risk having your words run off screen. I also found that text sometimes strayed slightly outside of the confines of the balloons, but not by much.
The program's interface is elegant and makes excellent use of the touch screen; however, it's sometimes sparse to the point of being mysterious. For example, most of the program's icons are unlabeled and it's not at all obvious how to delete text bubbles. (Tap and hold the unwanted bubble until it begins to shimmy and shake, and then tap on the x icon that appears.) This can be frustrating to users who don't want to spend their time experimenting. The program would benefit greatly from an instructions screen. (You can get pointers from the company's Web site, but you shouldn't have to.)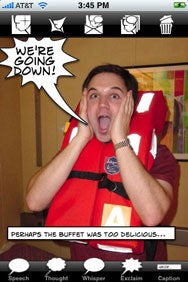 When you're done with your masterpiece, you can save your comic to the Photos app or e-mail it to someone else—click on the blue Plus sign to access your Address Book contacts. You can even set up e-mail templates with the To: field, subject line, and body text already filled out to save yourself time. But don't expect to turn your finished work into prints: the resulting uploads are just 320-by-416 pixels.
Lots of nice touches and a good dose of humor help make Comic Touch a fun addition to your iPhone collection. However, you'll need patience to figure out of all its tricks.
Comic Touch is compatible with any iPhone or iPod touch running the iPhone 2.0 software.
[Kelly Turner is a Macworld senior editor.]