The following article is reprinted from the Today @ PC World blog at PCWorld.com.
Major League Baseball is crying foul over an Apple iPhone App called Baseball that it says infringes on MLB trademarks. At issue is Baseball's use of MLB team logos inside the application. The free Baseball application for iPhones debuted last Friday as one of hundreds of applications available through iTunes App Store. Baseball, published by Bulbous Ventures, is a reference utility packed with baseball statistics dating back to the 1888 Detroit Wolverines all the way up to San Francisco Giant Barry Bonds' 2007 battering average of .276.
On Monday Michigan's Mark Knopper, owner and sole employee of Bulbous Ventures, received an email from MLB Advanced Media demanding that he remove baseball team logos from his program along with a nearly imperceptible MLB logo used on the application program shortcut. MLB Advanced Media also expressed concern people might wrongfully assume his program was an official MLB iPhone App. MLB also made available its own iPhone app on last week, MLB.com At Bat ($5).
"All of a sudden this labor of love of mine became more labor than love," Knopper says. The avid Detroit Tiger fan says he will comply, but admits disappointment. Knopper, a self-employed Mac programmer, created the Baseball iPhone App for pure amusement and thought it would "cool to just give the program away for free to other baseball fans" like him, he says.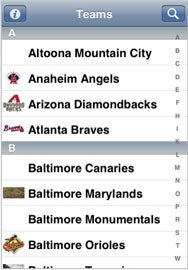 When good intentions go awry
Knopper says Apple hasn't yet shared with him how many times his Baseball iPhone app has been downloaded, however the baseball trivia application is getting positive reviews and fans have mostly given the program two thumbs up. Knopper says soon when Baseball users sync their iPhones with iTunes he will send an update to either "fuzz out" logos or replace them with alternate images.
"I just hope people won't be too disappointed when Baseball loses its official team logos," Knopper says. He doesn't know what to replace the logos with and is using caution, adding he worries MLB lawyers likely "fall to sleep dreaming about what to trademark next."
He said it took him over a week to hunt down the team logos he found mostly on the Internet.
Minor league Davids vs. Major League Goliath
Knopper might have good reason to worry. Recently the Web site Obama of Dreams was served a cease-and-desist letter from MLB because of T-shirts the site was selling that used the typeface of Major League Baseball team Baltimore Orioles. Instead of Orioles the T-shirts had the word Obama. According to reports from The Smoking Gun, on March 4 the Obama of Dreams site shut down.
Major League Baseball has also clamped down on online fantasy baseball businesses. In 2005 MLB Advanced Media sued online fantasy baseball business CBC Distribution and Marketing, which runs CDM Fantasy Sports, for using names and statistics without paying for a licensing agreement. The suit, which claimed infringement of intellectual property, caused a ruckus with baseball fantasy fans outraged that MLB could assert ownership of baseball players' names and playing statistics. CBC Distribution and Marketing claimed it had a First Amendment right to use the players' names and statistics.
In 2006 CBC Distribution and Marketing won its court case gaining legal protection for using Major League Baseball player names and statistics without a license. MLB appealed the ruling and pushed to have the U.S. Supreme Court hear its case. In June the U.S. Supreme Court denied a petition to hear MLB's case.
Later a MLB Advanced Media spokesperson clarified its position agreeing that player stats and names are in the public domain. It was the use of those stats and names in conjunction with team logos and other images that created the trademark infringement.
In the meantime Knopper isn't taking any legal chances. "Major League Baseball could squash me like a bug. The logos will be removed."