Macgamestore on Friday announced the release of Jewel Quest III, the latest sequel in the popular color-matching puzzle game series. It costs $19.95, and a 60-minute trial version is available for download.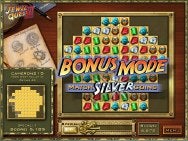 Jewel Quest III is a variation on the popular "match three" style of action puzzle game. It features head-to-head competition, the ability to alter the jewel boards by obtaining pearls, and original graphics and music.
In this installment, Rupert and Emma have opened their own museum to show off artifacts they've acquired. Their daughter Natalie opens a secret compartment in a mysterious jewel board, and it unleashes a cloud of spores. Rupert and Emma must save their daughter by traveling the globe in search of the fabled Golden Jewel Board, which holds the antidote.
System requirements call for Mac OS X 10.3.9 or later.