PDO is shipping its TopSkin cover for the iPhone 3G and has announced cables and chargers for the new iPhone as well.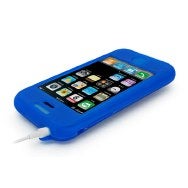 The TopSkin is a silicone skin that covers the iPhone 3G. Available in black, blue, pink and white, it covers the power, volume and home buttons, with cutouts for the camera, vibrate switch, speakers and microphone. Flaps cover the dock connector and headphone jack when not in use to keep them from getting contaminated. The TopSkin has a "micro texture" grip and full screen protection, as well. It's priced at $19.99.
PDO has also announced its High Performance Series cables — an audio auxiliary cable and RCA stereo audio cable. Both are six feet long and come in black chrome-finished connectors with gold-plated contacts. The auxiliary cable connects your iPhone's headphone jack to an auxiliary input on a car stereo or any other device equipped with a 3.5 mm input; the RCA stereo audio cable connects the iPod to a home entertainment system. Both are shipping in late July and cost $19.99.
The PowerUP charger series provides juice for the iPod. The PowerUP Wall Charger combines a dual USB adapter with iPhone and iPod USB cable; the adapter has foldable prongs and can charge two iPods or two iPhones (or any combination) simultaneously. The PowerUp Car Charger features a coiled cable and jack that plugs into a cigarette lighter or power port in an automobile. Both are priced at $19.99 and will ship in August.