Incase has announced a line of new protective covers for the iPhone 3G. The new Protective Covers cost $29.95 each.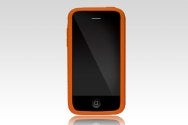 The Protective Cover is made of form-fitting injection-molded silicone and comes in black, orange and rose. They feature Incase's signature "topographic" pattern on a matte exterior. The case keeps all controls easy to access, with cutouts for the camera lens, speaker and microphone. You can also charge the iPhone when it's in the case — the dock connector remains accessible.
Incase has also announced that they're reworking their Slider Cases for the iPhone 3G, and should have them ready in August.