At a Glance
Expert's Rating
Pros
Online collaboration, personal file sharing, and synchronized reading via embedded integration with Acrobat.com
Support for PDF/E, PDF/A, and PDF/X-4 standards
PDF Portfolios make distribution packages easy and attractive
Forms Wizard improves form creation, tracking, and data collection
Faster performance
Improved support for embedded Flash and FLV Flash video
Improved PDF version comparison
Cons
Limited live collaboration options
Still no LiveCycle Designer application included with Mac version
Few enhancements for creative and print workflows
Our Verdict
Adobe's Acrobat 8 Professional ( ), saw major leaps forward in nearly every function and feature of the august PDF creator. Adobe Acrobat 9 Pro (not Professional, just Pro) is a smaller update with a narrower focus. There are no major improvements for creating and distributing basic or even signed or certified PDF documents, nor will design and print industry workers discover anything added or significantly improved for them. Minor to moderate improvements and enhancements abound for all, but Acrobat 9 is aimed primarily at streamlining document collaboration and review, with the goal of easing forms creation and distribution running a close second. Business workgroups producing PDF files for review or data collection will definitely want to consider Acrobat 9.
The new version of Acrobat should be easy for anyone, even those with no Acrobat experience, to use out of the box. Already using Acrobat 8? You'll be proficient in Acrobat 9 with almost no learning curve. Menus and toolbars are largely the same, though thankfully tidied up a bit. It has the same love-it-or-hate-it user interface, with large, colorful toolbar buttons that are reminiscent of Microsoft Word's. Most common tasks are accessible from the main toolbar via drop-down menus; for instance, the Create menu includes commands to create PDFs from a file, scanner, Web page, the clipboard contents, or by combining multiple PDFs into one. Acrobat's performance is improved over the previous version, with the application launching in about half the time.
Forms
Adobe has struggled for years to promote PDF forms as a viable alternative to HTML forms. Anyone could create a form in previous versions of Acrobat; in Acrobat 9, creating and editing forms is even easier. A new Forms Editing mode replaces the Forms toolbar with a dedicated, streamlined workspace strictly for building and editing forms. Acrobat 9 also offers improved field recognition and auto-creation, and the ability to preview a form before finalizing it.
Regardless of how easy it was to create forms, the post-creation tasks were always what hindered widespread adoption. Collecting respondent data usually meant receiving results one at a time as e-mail attachments. Saving those attachments and aggregating them into a database or database-ready format was tedious. Connecting PDF forms to an automated data collection process required server software often too technical or too pricey for small- to mid-sized businesses. With Acrobat 9, Adobe gets it right, throwing wide the gates of data collection and opening PDF forms to everyone.
Released concurrently with Acrobat 9 is Acrobat.com, a groupware Web site (now in beta) enabling anyone with a free Adobe ID to create, store, share, and collaborate on PDF files and other documents. Using the Distribute Form wizard inside Acrobat 9, you can upload a form to Acrobat.com; a link to its online location will be distributed to your e-mail contacts without you ever needing to leave the application. Invited respondents complete and submit the form online, and then Acrobat.com transmits the data back to the creator's computer, where the Acrobat 9 application automatically collects the data—no muss, no fuss, no pestering IT.
Add to the mix the new Forms Wizard, which offers a guided tour through the creation, distribution, and tracking of PDF forms, and Acrobat 9 is poised to finally catapult PDF forms into widespread adoption.
Unfortunately, LiveCycle Designer, the powerhouse visual forms design and scripting application that ships bundled with the Windows version of Acrobat, still hasn't made it over to the Mac with Acrobat 9.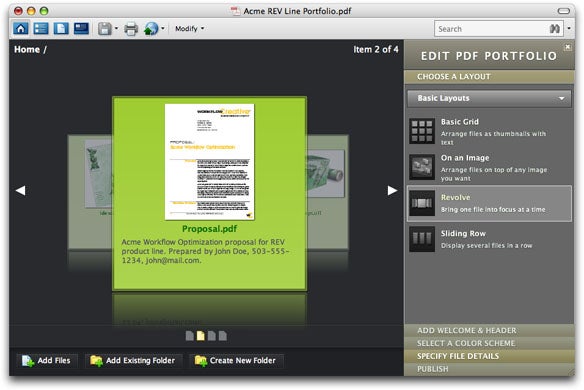 Even without the page layout-like convenience Designer offers for rapidly creating and deploying visually rich, dynamic, and intelligent forms, Acrobat 9 itself is a capable PDF form designer for the Mac. Those who need the more robust features of LiveCycle Designer will need to pick up a copy of Acrobat 9 for Windows to run via Boot Camp.
Collaboration
Acrobat.com also leverages the document review features of Acrobat 9. From the new Collaborate menu, documents may be uploaded to Acrobat.com for storage and private remote access, or shared with other users to enable a convenient round of reviews. There are three distinct collaboration methods in Acrobat 9: Collaborate Live (for synchronized viewing); Share my Screen (for Acrobat Connect Web conferencing that allows all participants to see everything that one person does on their screen; and Shared Reviews (a low-bandwidth alternative that is not real-time).
Selecting the Send & Collaborate Live command enables teams to chat and work together on the current PDF via a real-time Acrobat Connect session embedded within Acrobat 9. The Send and Collaborate Live wizard delivers the current PDF via e-mail to selected recipients, who then open it in Acrobat or Adobe Reader 9 to find the new Collaborate Live panel that enables recipients to chat with one another about the document. The host or any participant in the meeting may then initiate page sharing, which synchronizes everyone's view of the document, keeping all connected Acrobat or Reader windows on the same page, at the same zoom level.
Although I was initially quite excited about the concept of Collaborate Live, I was profoundly disappointed when I realized it isn't live collaboration. Text edits, comments, drawings, and other markup added to one participant's copy of the PDF, even the person currently controlling the page sharing, do not show up in other participants' views of the document. I really wanted to see all attendees able to edit and mark up a single document concurrently, so that, at the end of the meeting, the document author didn't have to fall back on the tedious process of collecting and evaluating everyone's separately reviewed PDFs. Unfortunately, that isn't the case. Synchronized viewing can be quite useful, but the Collaborate Live feature is tandem reading, nothing more.
There is a slightly more live collaboration feature, but it's not in the Collaborate menu where you would expect to find it. Instead, the Send for Shared Review command in the Comment menu has been revamped. It can still send a document out and track recipient comments via a WebDAV server, but if running your own WebDAV is a little beyond you, Send for Shared Review now offers the option of tracking and collecting comments via Acrobat.com as well. In a stroke of remarkable genius, anyone with Acrobat 9 and a free Acrobat.com account can now post a document online and collect comments back.
Like Collaborate Live, a Shared Review session is hosted within Acrobat or Adobe Reader 9, and includes a chat box and the ability to synchronize views among all participants. Oddly, both types of sessions activate the same panel, titled Collaborate Live. This is also a misnomer, but for a different reason. In the Shared Review meeting, participants can see one another's comments, but not live. After making a comment—adding a note, editing text, drawing a line, and so on—you must click the Publish Comments button to upload your edits to Acrobat.com. Everyone else in the meeting must then individually click on Check for New Comments before they can see your edits. Repeat the process every time you want collaborators to see your new markups. This procedure is slow and awkward.
PDF Portfolio
Acrobat 8 introduced PDF Packages, multiple documents collected into a single, PDF-based archive for easy distribution. Not surprisingly, hardly anyone used the feature. With native support for Zip archives in OS X and Windows, why bother? Not easily discouraged, Adobe kept PDF Package in Acrobat 9, redubbed it PDF Portfolio, and made it useful and, dare I say, cool.
Whereas Package converted all documents to PDF—at least, those that Acrobat 8 could convert to PDF—before collecting them into a compressed archive, Portfolio doesn't convert the documents. Instead, it just grabs them in their original formats and archives them. TIFF files stay TIFFs, Excel spreadsheets remain Excel spreadsheets, and so on. Portfolio supports more file formats, too. For instance, Acrobat 8's Package spat out InDesign CS3 documents with a JavaScript error and choked without comment on PDF-based Adobe Illustrator CS2 files. Acrobat 9's Portfolio, on the other hand, added InDesign, Illustrator, and every other file type I threw at it without so much as an ahem.
Of course, that still doesn't offer a reason why one would opt to collect and send a group of files as a Portfolio instead of a simpler, faster-to-create Zip archive. Presentation is one reason that comes immediately to my mind.
Think of a Portfolio as a presentation folder comprised of different types of documents. Imagine a quarterly report, for instance. Instead of converting all the charts, tables, slideshows, and other documents to a single PDF, Acrobat 9 can combine them into a Portfolio, which acts like a single file, but is really a container holding the original Excel, PowerPoint, and other files. All the documents are presented in a cohesive, graphically rich environment, but each can be opened individually in its native application. Meanwhile the entire package can kick off with a video address by the CEO, also embedded in the document as the portfolio's cover or welcome page.
Depending upon which of the four slick presentation templates you choose, a Portfolio can present documents as thumbnails in a grid, as list items atop a background image, as a row of sliding monoliths, or as tiles in a horizontal carousel. Choose from one of the 16 included color schemes or create your own and add a welcome page with text, images, and even Flash movies and full video. Throw in a branded header of plain or structured text, a logo or background image on each thumbnail, list item, monolith, or tile, and you have in just a few clicks a slick, professional-looking file presentation and distribution package. Start to finish, Portfolio can create a high-quality document distribution system for posting on the company intranet or the Web, or even for burning onto a CD or DVD with far less time and effort than required by Adobe Flash, Encore DVD, or other graphical interface or front-end creation applications. Even better, because Portfolios are PDF files, recipients can open them in Adobe Reader 9 without the need for a full version of Acrobat.
I would really like to have seen transitions added to the Portfolio such that, when viewing documents in the slideshow-like Preview mode, documents could fade, wipe, dissolve, or otherwise transition between one another. Enabling a full-screen view would have also been a nice touch. Despite these minor gripes, Portfolio is impressive.
Creative Pro
Other than the enhanced collaboration (and tandem viewing) features, which could be useful to anyone who collaborates with team members, clients, or vendors, print design and production personnel will find little reason to upgrade to Acrobat 9. Remapping one spot color to another and controlling the transparency blend space are two new features that are extremely useful—so useful, in fact, that most prepress workflows already enjoy those abilities within their preflighting solutions.
Worth a glance is support for PDF/X-4, the latest standard for structured PDFs moving through automated print production systems. Initially included in Acrobat 8 as a draft specification, the finalized PDF/X-4 standard is a part of Acrobat 9.
For creatives in or dabbling in multimedia, Acrobat 9 offers improved video and audio embedding thanks to the now fully integrated Flash player. New editing and commenting tools also make multimedia content just like any other objects, complete with the ability to insert new Flash content and to add comments to specific points on the timeline of a Flash movie.
Macworld's buying advice
Thanks almost exclusively to its integration with Acrobat.com, Acrobat 9 Pro boasts impressive improvements for specific types of users. Workgroups will benefit from the incredibly easy document distribution and sharing, and anyone who works with forms will be excited by the streamlined form creation, distribution, and (especially) data collection. PDF Portfolios are also a compelling upgrade incentive to marketing, sales, and other professionals looking for a fast, easy way to build document distribution packages with personality.
Everyone else just getting into PDF creation or using Acrobat 7 or earlier should think seriously about picking up Acrobat 9. Unless a new feature fills a specific need, though, users of Acrobat 8 can afford to skip this version. Creative professionals can certainly wait until Creative Suite 4 is released, which will deliver Acrobat 9 Pro as part of the bundle.
[Pariah S. Burke, a Portland-based design and publishing workflow expert, is principal of Workflow:Creative working with studios, agencies, and publications around the world. He is the author of Mastering InDesign CS3 for Print Design and Production (Sybex, 2007), as well as author or co-author of three other books for creative professionals.]