Olens Technology has introduced its XPJ Personal Entertainment Projector (PEP), a $279 digital video projector compatible with gaming systems and computers.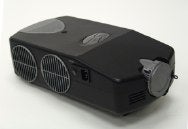 The XPJ PEP can project an image from 40 to 70 inches, though it's limited to 640 x 480 pixel (VGA) resolution. It sports an analog VGA, AV composite and S-Video input, along with built-in stereo speakers. It also includes a wireless remote control and an RCA audio-video cable. The device can connect to an external stereo if you'd prefer to hear the audio on a home entertainment system.
The lamp used by the projector is a proprietary 270-watt model; it's rated to last 300 hours, and the projector includes a spare.