In addition to billions of pages of text, the Web is awash in images— more than 50 million desktop images, more than 3 million convertibles, and more than 10 million cartoons.
While Google's image search can help you find lots of pictures in a broad swath, it's tougher to find images related to a particular topic of interest. On the iPhone, though, iEnvision can help you do just that.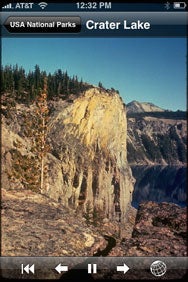 iEnvision is something like a Web browser, but it's focused solely on browsing collections of images, as opposed to Web pages. Links to those images can be derived from one site or from any number of sites, merged together into one collection. iEnvision ships with a 12 different image collections (called groups) covering art, astronomy, children's books, comics, news, and more. Tap one of these groups, and you'll see a list of every item the group—some of which are huge. Art, for instance, lists several hundred artists. Tap any artist, and iEnvision will start a slideshow displaying the paintings from that artist, for example.
When viewing a slide show, you can tap an image to see some basic controls for jumping back to the beginning, pausing and resuming, jumping to the previous or next slide, and switching to Safari to see the current image on its original Web page. On a wireless connection (and, I assume, a 3G connection too), most images displayed rapidly. When used over EDGE, however, you may experience loading delays as iEnvision downloads each picture.
You can create your own groups, though doing so takes a few taps to reach the right screen. Once you've reached the right spot, you can link to Web shows created with the company's Envision desktop application or to any Web page you wish. iEnvision will then create a new group on the iPhone, and show you the images from the Web show or Web page. iEnvision names the group based on the name of the linked Web show or page, and you can't edit the name.
You can also create your own groups containing multiple sites, though you'll need access to a Mac or PC to do so—you can't create site-based groups using iEnvision. Open Door Networks provides a useful page of instructions that explains the process.
iEnvision doesn't offer a search feature, unlike its desktop version, so if you're wondering if a certain Web page is in a given group, you have to open that group and scroll through it to find out. You also can't save an image (nor can you create a group of Favorite images) directly from iEnvision; instead, you need to open the image's Web page in Safari, and save the image from there.
Despite its shortcomings in some areas, iEnvision is a great tool for browsing large image collections without having to download the entire contents of their parent Web pages.
iEnvision is compatible with any iPhone or iPod touch running the iPhone 2.0 software update.
[Rob Griffiths is a Macworld senior editor.]