Apple saw record profits and earnings for its June quarter after selling the most Macs in company history. The company on Monday reported a fiscal third-quarter profit of $1.07 billion on revenue of $7.46 billion; both figures represent the best results ever for Apple during the three months ending June 30.
All told, Apple saw total profits rise 32 percent while sales jumped 38 percent. Earnings per share rose 29 percent to $1.19 per diluted share. Analysts polled by Thomson Financial estimated net income for the quarter to be $976 million with earnings per share of $1.08. Apple's revenue for the quarter also beat analysts' projections of $7.37 billion.
However, Apple's stock took a beating in after-hours trading, most likely because of the guidance given by chief financial officer Peter Oppenheimer for the upcoming September quarter. Apple expects revenue of about $7.8 billion, which would be 25-percent growth over sales in the fourth quarter of 2007; Oppenheimer pegged the quarter's earnings per diluted share at $1.00. Prior to Monday's briefing with analysts, Wall Street was looking for $8.32 billion in sales and earnings of $1.24 a share.
Oppenheimer told analysts that Apple also expected gross margins to decline during the September quarter, citing one-time costs, a back-to-school promotion offering free iPods to Mac-buying students, and—tantalizingly—a "significant product transition." Oppenheimer declined to elaborate on that last point, citing Apple's policy of not commenting on future products.
But Oppenheimer wasn't the only Apple executive to hint that the company had something planned for the coming months. In a statement released to trumpet Apple's quarterly performance, CEO Steve Jobs indicated that more products are on the way.
"We set a new record for Mac sales, we think we have a real winner with our new iPhone 3G, and we're busy finishing several more wonderful new products to launch in the coming months," Jobs said.
A new Mac record
Apple shipped 2,496,000 Macs during the June quarter, representing 41 percent unit growth and 43 percent revenue growth over the same period from a year ago. It was the fourth time in five quarters that Apple sold a record number of Macs. Previously, the bar was set during the first quarter of 2008 when Apple sold a little more than 2.3 million Macs.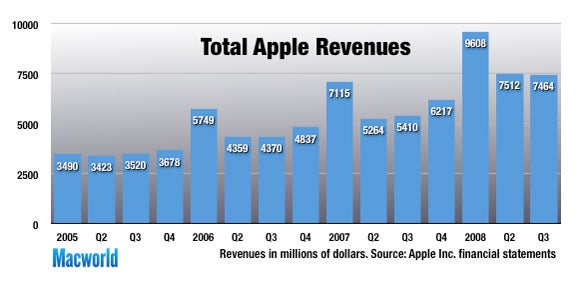 Laptops continue to be a big driver for Apple, which sold more than 1.5 million portables during the June quarter. Oppenheimer cited strength across all three Apple laptops—the MacBook, MacBook Pro, and MacBook Air—though this was the first full quarter of sales for Apple's ultra-portable Air.
Apple sold 943,000 desktops during the quarter, driven by changes to the iMac line. Apple updated the iMac in late April, adding faster Core 2 Duo processors to its all-in-one desktop.
Desktop sales grew 49 percent year-over-year; portables were up 37 percent year-over-year. Apple's 41-percent growth in Mac shipments was nearly three times the industry standard, according to Oppenheimer.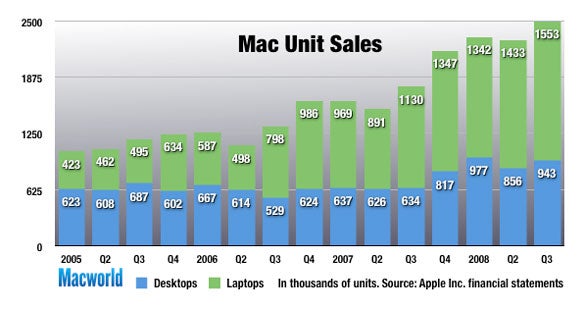 In the U.S. channels tracked by market-research firm NPD Group, Apple's computer market share increased to 19.5 percent this year from 15.4 percent last year. Apple also saw the best Mac quarter ever for education business, with unit growth of 25 percent year-over-year. There was also a new all-time high for quarterly Mac sales in the K-12 and higher education markets.
"We're thrilled with the momentum of the Mac business," Oppenheimer said.
iPhone dialed in
Apple sold 717,000 iPhones during the June quarter. But these were all first-generation models sold amid widespread shortages as Apple cleared out its remaining stock in anticipation of the iPhone 3G launch.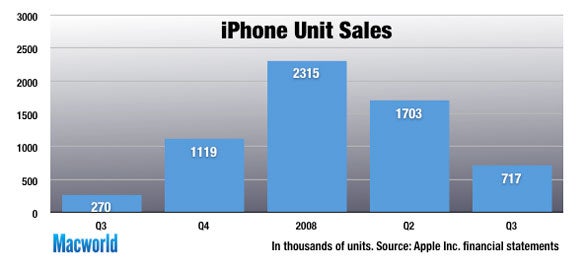 Apple recognized $419 million in iPhone-related revenue during the quarter, compared to $5 million in the same quarter last year. Under accounting rules, Apple stopped recognizing handset revenue for any iPhone sold after it announced the iPhone 2.0 software update on March 6, so any revenue recognized during the June quarter comes before that date. The company resumed recognizing iPhone revenue when the 2.0 update shipped on July 11.
Though the iPhone 3G didn't hit shelves until after the June quarter ended, Apple still discussed its strong debut with analysts. Apple sold 1 million iPhone 3Gs during the handset's opening weekend. It took the original iPhone 74 days to hit that mark.
"Customer reaction [to the iPhone 3G] has been overwhelmingly positive," Oppenheimer said.
The company is still struggling to meet what it describes as "overwhelming demand," though chief operating officer Tim Cook said he was "very pleased" with Apple's efforts to ramp up production. In fact, Apple is confident enough that it can increase iPhone 3G supplies that it plans to introduce the iPhone to 20 more countries next month.
iPod tallies
iPod sales didn't see a dramatic increase in the June quarter, though Apple still saw a gain. The company sold 11,011,000 iPods during the quarter, representing 12 percent unit growth with revenue up 7 percent year-over-year. Revenue growth was head down by a lower average sale price for the iPod, after Apple cut iPod shuffle prices in February.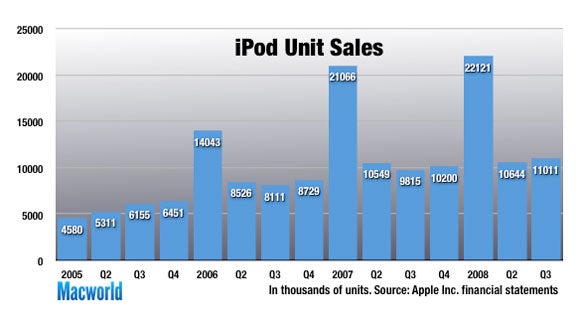 Apple did not release information on Apple TV says. Cook described the business as a "hobby" that didn't have the potential of Apple's iPhone effort. Nevertheless, he said he was pleased with sales of the set-top box since Apple released the 2.0 version in February.
Retail returns
Apple's retail stores saw $1.44 billion in revenue. The brick-and-mortar stores sold 476,000 Macs sold in the quarter, an increase of 44 percent from the year-ago quarter. Half of the Mac sold via the Apple Store were to new Mac users. Stores hosted a record 598,000 personal training sessions during the quarter.
Apple opened eight stores during the quarter, including the Boylston Street store in Boston and its first store in Australia. That brings the total number of Apple Stores to 216.
The company says it's on track to have 242 stores open when its fiscal year ends in September. Apple just opened a store in Beijing. And the company confirmed plans to launch stores in Switzerland and Germany coming in second half of calendar year 2008.
Apple also began selling in about 170 Best Buy stores during quarter, for a total of 570; it hopes to be up to about 600 stores by end of summer. Globally, Apple now has about 10,300 storefronts for the Mac (not to be confused with Apple-branded retail stores) which is up about 1,600 year-over-year.
Executives on the conference call side-stepped a question about CEO Steve Jobs' health, which has been discussed widely since he appeared on stage looking gaunt at the Worldwide Developers Conference in June.
"Steve's health is a private matter," said Cook, adding that Jobs has no plans to leave Apple.
1:50 p.m. PT: Added more information on the company's quarterly earnings. 3:15 p.m. PT: Added details from the earning call as well as earnings charts. 5:38 p.m. PT: Added more information throughout the article.
Agam Shah of IDG News Service contributed to this report.