For many of us who travel and want to get online from the road, Wi-Fi hotspots alone just don't cut it. There aren't enough of them, they aren't always available where you want them, and they can be a security nightmare. There is a better alternative: cellular data service from the same wireless carriers who connect our cell phones.
The advantage of cellular data service is its ubiquity. Like cellular voice service, it's based on networks of base stations that are located in most cities and airports and along most major highways in the United States. That means you can get online at near-broadband speeds in most metropolitan areas, and at slow but still usable rates in less-traveled and less-populated places.
Until recently, the biggest problem with cellular data service was that few of the carriers offered good Mac support; Verizon was long the main exception. But that has gradually been changing: all the major carriers now make it much easier for Macs to get online, too.
This means that for most mobile Mac users, a cellular data plan is now the best—if not the least expensive—way to get online from the road. But which carrier's service should you choose? Here's how they compare.
The Carriers
AT&T, Sprint, and Verizon each offer speedy, third-generation cellular data networks in the United States (see our cell data glossary). Sprint and Verizon claim downstream rates from 600 Kbps to 1.4 Mbps; AT&T, from 700 Kbps to 1.7 Mbps; all three can reach peak speeds of more than 2 Mbps. Going the other way, Verizon and Sprint claim upstream rates of 500 to 800 Kbps; AT&T, from 500 Kbps to 1.2 Mbps.
Those claims aren't too far wrong. In informal testing, our colleagues at Computerworld found that downloads averaged around 500 to 750 Kbps, peaking around 1.2 to 1.6 Mbps, while uploads were about 230 to 480 Kbps. In my own informal testing with a new Sprint adapter card, I actually hit a peak of 2.4 Mbps for one download.
All three services provide roughly comparable coverage. Of the three, AT&T is lagging furthest behind: It has full service in 275 of the 350 top metropolitan markets, and plans to finish rolling out service in the remaining 75 this year. When you roam beyond the reach of the 3G network, service drops back to whatever last-generation cellular data network that carrier used; as a result, your speed will drop more precipitously on Verizon's and Sprint's networks than on AT&T's.
T-Mobile is lagging behind the other big national carriers: While the company just launched a 3G network in New York City, it has only an intermediate 2.5G network—EDGE—in the United States. (EDGE is the middle-speed network used by the first-generation iPhone.) T-Mobile is also alone among the Big Four in not offering cell-data options for Mac owners; it offers just a single PC Card, with no Mac drivers or software.
The Plans
The cost of 3G service depends on your carrier's plans and how much bandwidth you want.
AT&T offers one service plan: it's $60 per month and you're allowed a maximum of 5GB of combined upstream and downstream data. AT&T says that it may apply a surcharge for users who go over the limit, but it doesn't say exactly how much that charge might be or whether there's an upper limit on those surcharges. Customers can cancel instead of paying the overage charges—but that's an ugly option because of the cancellation fees.
Sprint also has a $60-per-month plan and recently started capping its bandwidth at 5GB for on-network service and 300MB for roaming service. The company says it will contact customers who exceed either threshold in two months out of any three-month period to discuss options; customers who choose to cancel or who don't respond to inquiries will have their cancellation fee waived.
Sprint also has a limited data plan for $40 per month that allows you 40MB per month of combined upstream and downstream data. If you go beyond that limit, you'll be charged about $1 per megabyte, with a maximum total charge of $100 per month.
Verizon too offers a $60 plan that's capped at 5GB per month. The state of New York investigated Verizon over its calling this service "unlimited"; the carrier recently had the investigation dropped in return for clarifying its rules and providing a clearer disclosure (the best you'll get from any of the three carriers) about how it measures service and how it defines appropriate use of its network.
If you sign up for Verizon's 5GB plan, you'll be charged 49 cents for each additional megabyte beyond that 5GB cap. But before those charges start, you'll be notified via e-mail, text message, and the connection software when you are approaching the limit. (If you already have an older cellular data service contract, your bandwidth may be throttled down to 200 Kbps if you go over your 5GB limit.)
Verizon also offers a limited data plan for about $40 per month. That includes 50MB per month of combined upstream and downstream data. If you go over that limit, you'll be charged 99 cents per megabyte.
Most of these plans require a one- or two-year commitment. If you don't want to commit, AT&T and Verizon will charge you $80 or more per month for service, plus the full price of the adapter. Sprint recently dropped that month-to-month option, and the other two could follow suit.
| Carrier | Monthly | Overage Charges | Limit on Monthly Bandwidth | Notes |
| --- | --- | --- | --- | --- |
| AT&T | $60 | Not explained until you hit the limit | 5GB | |
| Sprint | $40 | $1/MB | 40MB | Maximum charge: $100/month |
| Sprint | $60 | none | 5GB | Warnings if you exceed limit regularly. |
| Verizon Wireless | $40 | $0.99/MB | 50MB | |
| Verizon Wireless | $60 | $0.49/MB | 5GB | Extensive warnings before you reach the limit |
My advice: The $60-per-month plan from any carrier is almost certainly the best. Five gigabytes per month translates to under 200MB a day on average, which isn't an onerous limit. If you're not buying movies from the iTunes Store, using peer-to-peer networks, or constantly installing huge software updates, you might never even exceed this daily average. But be careful: At 800 Kbps (Verizon's reported average downstream speed), you could hit 200MB within 30 minutes of daily continuous downloading.
The Hardware
All three carriers offer USB, ExpressCard, and PC Card hardware options, all with Mac OS X support. Comparable hardware options cost roughly the same, regardless of the carrier (see "Cell Data Hardware"). Though the hardware offerings change constantly, AT&T currently offers three cards, Sprint six, and Verizon eight. The main differences between them are card format, battery consumption, and size, but not performance. Typically, the least expensive USB adapter burns more power and is bulkier than its more expensive counterparts. Speed is a function of the network, not the card.
Your choice of cards will depend largely on the Mac laptop model you have. Most PowerBooks have PC Card slots; so far, only the MacBook Pro has an ExpressCard slot. Every current Mac laptop—including the MacBook and the MacBook Air—has a USB slot, and each carrier offers one or more USB adapters.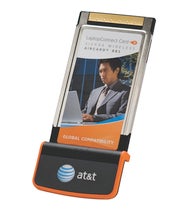 Some USB modems may require a cable or an extender to plug in alongside other USB adapters; newer and more-expensive USB adapters tend to be smaller and sleeker than older units. Because it's so thin, the MacBook Air almost certainly needs a USB cable extender—which may come with the modem—to make a good connection.
The cost of the hardware will vary by carrier and whatever deals it's offering when you sign up for service. Signing a two-year service contract gets you the best deal. Most carriers also offer discounts if you buy online, and some offer instant online or mail-in rebates.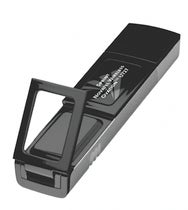 In addition to those brass-tacks concerns, you should also consider these other points when you buy 3G hardware: Both of Sprint's USB modems and Verizon's most expensive USB modem (the USB727) include micro-SD slots; that means they can double as USB flash drives. If your laptop has just one USB port or the ports' positioning makes it hard to insert a USB drive, this feature might make it worthwhile to choose Sprint or spend a little extra with Verizon.
All but one of Sprint's modems (the AirCard 595 PC Card) include GPS technology. If you're using one of those modems, the SprintView software will show your current GPS coordinates and can connect you to Web lists of nearby amenities.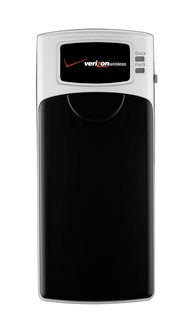 Some USB modems—such as the Verizon 595U—have internal batteries and can be charged separately from the laptop; this can extend your laptop's battery life by more than an hour.
All of Verizon's and all but one of Sprint's modems sport external antenna jacks that allow you to attach higher-gain (in other words, farther-reaching) external antennas. That can be handy if you frequent remote areas or use the adapter in your car (the frame can block reception). You can buy external antennas from the carriers or through third parties. If you go with a third party, just make sure the antenna you buy is designed to work with your carrier's 3G frequency ranges.
Overall, I recommend USB modems for most users. They work with pretty much any Mac, and they're easily exchanged between systems: if you buy an ExpressCard for your MacBook Pro but then need to borrow someone's MacBook or MacBook Air, or if your home broadband goes on the fritz and you want to plug your 3G modem into your desktop, you'll be out of luck. A USB modem can connect pretty much any Mac (or PC, for that matter). The only downside? USB modems stick out, so you can easily damage them if you don't take care.
Cell Data Hardware
| Carrier | Item | Price ¹ | Cell Data Standards | Interface | OS X Compatibility |
| --- | --- | --- | --- | --- | --- |
| AT&T | AT&T USBConnect 881 | $0 | 3G, EDGE, quad band | USB | 10.4+ |
| | Option GT Ultra Express | $50 | 7.2 HSPA, EDGE, quad band | ExpressCard | 10.4+ |
| | Sierra Wireless AirCard 881 | $50 | 3.6 HSPA, EDGE, quad band | PC Card, Type II | 10.4+ |
| | | | | | |
| Sprint | Sierra Wireless Compass 597 | $50 | EVDO Rev. A | USB² ³ | 10.4+ |
| | Novatel Wireless Merlin EX720 | $100 | EVDO Rev. A | ExpressCard ³ | 10.4+ |
| | Novatel Wireless Ovation U727 | $100 | EVDO Rev. A | USB² ³ | 10.4+ |
| | Novatel Wireless Merlin S720 | $120 | EVDO Rev. A | PC Card, Type II³ | 10.4+ |
| | Sierra Wireless AirCard 595 | $120 | EVDO Rev. A | PC Card, Type II | 10.4+ |
| | Sierra Wireless AirCard 597E ExpressCard | $130 | EVDO Rev. A | ExpressCard³ | 10.4+ |
| | | | | | |
| T-Mobile | Sony Ericsson GC89 | $150 | EDGE/Wi-Fi | PC Card, Type II | none |
| | | | | | |
| Verizon | VW UM150 USB Modem | $0 | EVDO Rev. A | USB | 10.3.9+ |
| | VW KPC680 ExpressCard | $50 | EVDO Rev. A | ExpressCard | 10.4.8+ |
| | VW PC5750 PC Card | $50 | EVDO Rev. A | PC Card, Type II | 10.3.9+ |
| | VW USB720 Modem | $50 | EVDO Rev. A | USB | 10.3.9+ |
| | VW AirCard 595 | $100 | EVDO Rev. A | PC Card, Type II | 10.3.9+ |
| | VW AirCard 595U USB Modem | $130 | EVDO Rev. A | USB | 10.3.9+ |
| | VW V740 ExpressCard | $130 | EVDO Rev. A | ExpressCard | 10.4.8+ |
| | VW USB727 Modem | $150 | EVDO Rev. A | USBB | 10.3.9+ |
¹ With a two-year service contract. All prices are online only; in-store prices tend to be $50 to $100 higher. Mail-in and online rebates are included in the price. ² Includes micro-SD slot. ³ Includes GPS chip.
The Software
In addition to a 3G service plan and the hardware, you'll also need some software to help OS X work with your cell data adapter. This software recognizes when you insert or connect the adapter, lets you connect to the network, and shows you the signal strength and the current rates of upstream and downstream bandwidth.
Verizon offers VZAccess Manager. It works with all Verizon cell data cards. Sprint's Mac compatible Sprint SmartView works with all current and most older mobile broadband hardware. AT&T still relies on customized versions of the software designed by its hardware manufacturers.
Unless you purchase a modem from a cellular reseller who agrees to activate the service for you, you'll use the carrier's software to register the modem on the network and make it ready for use. VZAccess Manager can also manage Wi-Fi connections for you; Sprint's software can't.
Leopard itself includes minimal support for several cell data modems. OS X will recognize the adapter when you insert or connect it, and will then give you a menu-bar menu you can use to connect to or disconnect from the network, eject the card, and see how long you've been online. But OS X's software can't help you activate the adapter or take advantage of extra features, such as the GPS built into some Sprint hardware.
In addition to the vendors' software and OS X, there are a couple of third-party software options. Smith Micro Software (which makes VZAccess Manager for Verizon) offers the $30 QuickLink Mobile. QuickLink supports the cell data modems sold by nearly every major (and minor) U.S. carrier, as well as dozens of handsets that can be used as cell data modems. Nova media offers the $75 launch2net, which works with hundreds of phones, cards, and USB adapters worldwide.
My advice: The software from the carriers works perfectly fine. I'd only use OS X's built-in tools if for some reason you can't use the vendor's. And unless you need a particular extra feature in Smith Micro's or nova media's software—such as launch2net's support for multiple profiles based on GSM authentication modules—there's no reason to spend any more money.
The Final Word
No matter which carrier you choose, 3G cellular data service will be a huge step up from relying on Wi-Fi hotspots to get online from the road. You may, in fact, decide that it's the only online access you need and cut the cable or DSL cords at home or at work. The coverage, the pricing, and—most of all—the Mac compatibility are all good enough that 3G service could be the only broadband you need.
[Glenn Fleishman is the editor ofWi-Fi Networking News (wifinetnews.com) and the author of Take Control of Your 802.11n AirPort Extreme Network (Take Control Books, 2008).]