For the past three years, I've worked side-by-side with my three coeditors at Lifehacker.com, but we've never been in the same place at the same time. The members of our distributed team work hundreds (sometimes thousands) of miles from each other, spanning multiple time zones and disparate work hours. Yet we work together every day.
The key to our placeless office: Web applications that let us chat, collaborate, and do all the other things that regular, in-the-same-place work teams do, and that let us do it from our home offices, hotel rooms, and Internet cafes.
Even if you go to an office every day, where the conference rooms have actual walls, at some point you might work from a placeless office, too. Maybe you telecommute one day a week, or head out on the road for a couple of weeks of business travel, or collaborate with an overseas consultant for a month. Here are a few tools—the ones we use every day—to help you set up shop.
Chat: Campfire
Campfire is a dead-simple group-chat Web application, like a cross between an instant messenger and a bulletin board. It doesn't require invitations, and there's no need to figure out who uses Apple's iChat and who uses Adium.
Campfire creates a private "room" where you and your coworkers can breeze in and out anytime to ask questions, post updates, or just keep up with water-cooler topics. We used to schedule weekly meetings in Campfire, but lately we've found it works better as an always-open virtual space.
My coworkers and I hang around there most of the day while we work. Keeping things unstructured and unscheduled leaves room for us to chat about anything—from what we did over the weekend, to specific issues that crop up while we work. Since our East Coast writer starts earlier than everyone else, we West Coasters catch his posts in Campfire after we wake up and log on. More than any other Web application on this list, Campfire offers a strong sense of working in the same space with your team, even if you're physically spread out across the country.
E-mail: Gmail
Because we can't just drop by each other's cubicles to talk, we rely on e-mail to stay in touch. And because we generate such a massive quantity of e-mail, we use Gmail ( ) to keep it under control.
For example, we get dozens of messages from readers every day. If one of us responds to a reader's message, he or she copies everyone else on the response. Gmail's threaded view makes it clear who said what. Because our e-mail address is published on the Web site, we also need a full-strength spam filter. Gmail supplies a good one that yields only occasional false positives.
Because Gmail supports IMAP, you can check your mail in Apple's Mail (or any other IMAP-compliant client) or on your iPhone, as well as in your browser. It offers custom domain addresses (such as gina@lifehacker.com) for free, so you get your own address without having to maintain a mail server.
Group Calendar: Google Calendar
Because we aren't on a single network, we can't use regular shared-calendar tools. So we rely on Google Calendar ( ) for group scheduling.
We share a team calendar to keep up with travel and vacation days, upcoming events, and any other scheduled happenings. We create multiple, separate calendars (such as "Marketing schedule" and "Code deployment"), and then set custom sharing preferences so only certain coworkers can view and edit them. Google Calendar can also send event reminders via e-mail, text message, or instant messenger.
Collaboration: Google Docs
If you share and collaborate on word processing documents, spreadsheets, or presentations, Google Docs could be the perfect office suite for you.
At Lifehacker.com, guest editors submit article drafts through Google Docs, which makes keeping on top of revisions easy. The boss and I share a Google spreadsheet to track and allocate the Web site's quarterly budget. I revise and share slides before presentations.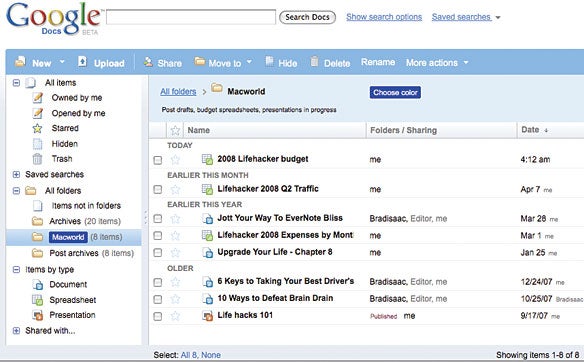 Like any good desktop suite, Google Docs lets you update existing documents or create new ones, share them with others for viewing or editing, and track revisions. Unlike desktop software, it lets you do all that with nothing more than your favorite browser. With an online office suite, you never have to worry about software licensing, shared network drives, or passing multiple revisions back and forth as e-mail attachments; your team members edit the document in a single place, and everyone's revisions are tracked for easy inspection and rollback.
Google Docs also integrates nicely with Gmail (so, for example, if you send a Microsoft Word attachment via e-mail, you can open it in Google Docs just by clicking on it once in Gmail).
Documentation: MediaWiki
Just as Wikipedia enables thousands of strangers to collaboratively document the world's collective knowledge, MediaWiki—the software that powers Wikipedia—can do the same for your workgroup and its collective knowledge.
The Lifehacker team wiki, located at a private URL, is where we maintain in-house writing style guides, lists of shared user names and passwords, software license codes, story pitches and research, and production guidelines. Compared with Google Docs, it's better for documents that will stick around for a while than it is for short-term projects. We aren't actively editing wiki pages every day; sometimes a week or more passes without an edit. But whenever we decide on a new process, we document it in the wiki. That way we're all on the same page, knowledgewise. The wiki has been a priceless resource for veterans and new hires alike.
All the pages inside a wiki are linked, which makes browsing and searching easier. The wiki software makes it easy to see who made certain revisions, and lets you roll back and compare page changes. You can also keep up with wiki edits via an RSS feed.
MediaWiki isn't a hosted application; you have to download it and set it up on a server of your own. If messing with PHP and MySQL is not your cup of tea, try the BitNami installer. If you're interested in a hosted wiki, check out PBwiki.
Project Manager: Backpack
We track all our in-house projects with Backpack. Made by the same folks who built Campfire—and integrated with Campfire for project-related chats—Backpack offers a simple interface for scheduling and assigning project milestones, posting questions and updates on a message board, and assigning tasks to team members.
For example, we develop small-scale software utilities such as Firefox extensions and scripts. Backpack helps us keep track of what's in progress and how far along it is.
Bookmark Manager: Del.icio.us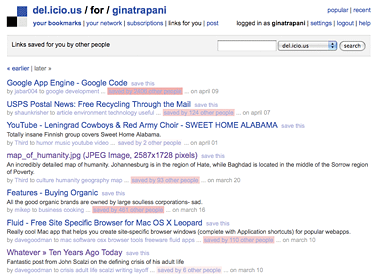 Finding and sharing good Web links is what we do. So finding a way to share new links—without interrupting the entire team with an e-mail or IM every time we come across a good one—is crucial. Instead, we save it in the social bookmarking service del.icio.us. (Lifehacker's publishing company, Gawker Media, uses social bookmarking service Wists to do the same thing.)
Whenever one of us finds something that's relevant on the Web, we add it to del.icio.us with a unique in-house tag. The rest of us subscribe to that tag's RSS feed, so we can peruse the recommended links at our leisure from our newsreaders. In essence, the bookmark tag acts as a low-overhead company blog. We also use the site's for: tag—any bookmark that I tag with for:ginatrapani will show up in my Links For You area.
[Gina Trapani is the lead editor of Lifehacker .com and the author of Upgrade Your Life: The Lifehacker Guide to Working Smarter, Faster, Better (Wiley, 2008).]