At a Glance
Expert's Rating
Pros
Adjustable stand
Large screen
Looks good at wide viewing angles
Our Verdict
NEC's MultiSync 3090WQXi is a 30-inch wide-screen LCD monitor aimed at professionals whose work requires color accuracy. The 3090WQXi is more expensive than Apple's 30-inch Cinema HD ( ) display, but it features a wider viewing angle, a higher contrast ratio, and a longer warranty than Apple's largest display. The 3090WQXi also offers numerous technologies for keeping both color and luminance consistent over the life of the display.
The display connects to your Mac using one of the two DVI inputs. It requires a dual-link DVI-equipped Mac, such as a Mac Pro or MacBook Pro. Some Power Mac G5s and late-model PowerBooks also support dual-link, but check your system's specifications before purchasing a display over 24 inches. You'll also need to use the included dual-link cable in order to run the display at its native 2,560-by-1,600-pixel resolution. The height-adjustable stand is very flexible, allowing you to tilt, swivel, and even pivot the display, so you can find just the right position for you. The display is nearly 14 inches deep and weighs about 40 pounds, so you'll need a decent amount of desk space.
Once set up, the 3090WQXi started up in its full, native resolution when we tested it on both a MacBook Pro and a Mac Pro. I used X-Rite's i1Display 2 ($259) to calibrate the monitor to a white point of 6500K and a gamma of 2.2. I found no dead pixels and a little bit of light leakage near the top center of the screen, visible only when I viewed a fully black screen in a darkened room. The black screen wasn't as pure a black as with some other displays I've seen, such as LaCie's 324 LCD monitor ( ), but this wasn't an issue when I viewed photos and graphics on screen. Color and brightness appeared consistent across the screen. Our photographic test images looked great on the display, with rich colors, white whites, and good amounts of shadow detail. Text was very legible even at very small point sizes. The viewing angle was very good, with almost no color shifts or loss of contrast from virtually any angle.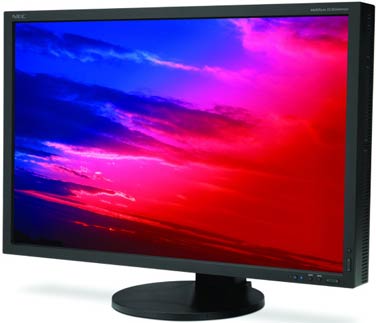 NEC has a ton of technology built into the display to keep this monitor looking great over the years, including X-Light Pro, which uses an internal backlight sensor to monitor and correct light output over the life of the display. Other interesting features include its programmable Look Up Table. Though the monitor can display 16.7 million colors (8 bits), it boasts a 12-bit Look Up Table that gives the NEC a palette of 68.5 billion colors.
Jury tests
| | |
| --- | --- |
| Viewing angle | Very Good |
| Color fidelity | Very Good |
| Text legibility | Very Good |
Scale = Superior, Very Good, Good, Fair, Poor
Specifications
| | |
| --- | --- |
| Size | 30-inch diagonal widescreen |
| Native resolution (in pixels) | 2560 x 1600 |
| Connections | 2 DVI |
| Viewing angle | 178 degrees |
| Brightness | 350 cd/m2 |
| Contrast ratio | 1000:1 |
| Dimensions (height x depth x width, in inches) | 26.3 x 13.5 x 27.1 |
| Special features | height adjustment, 12-bit LUTs |
| Warranty | 4 years |
Macworld's buying advice
Color professionals who are looking for a larger canvas, but are unwilling to sacrifice color accuracy and performance, should consider the NEC MultiSync 3090WQXi. It offers a supersize screen and tools for ensuring accurate and consistent color.
[James Galbraith is Macworld's lab director.]