Speck on Tuesday announced their PixelSkin cases for the iPhone 3G. iSkin has announced its new DuoBand for the iPod nano, and Ivyskin is offering its iPhone 3G XyloT3 case.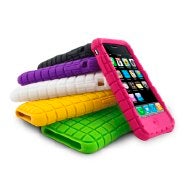 The Xylo Touch-Thru (T3) case is a hard shell case that lets you touch and still register your touches on the iPod's screen. It uses "Surface Xylo Wave" (SWX) technology that pass over the touch screen panel without interference. It costs $34.99.
The iSkin DuoBand for iPod nano 3G costs $39.99. It's aimed at athletes and others who want to carry their iPod nano on their arm, and it's designed to enable you to slip your iPod nano in and out of the band without removing it from the protective silicone case. It's available in red or black.
The PixelSkin costs $24.95. Made of silicone, it's form-fitting for the iPhone and has slightly thicker corners to protect the device from bumps and scrapes. A textured tile pattern gives you something to grab onto, and the case offers access to all ports, controls and sensors. It comes in black, white, purple, pink, yellow, blue and green.