WebIS on Wednesday announced Note2Self, an audio recording application for the iPhone. It's priced at $4.99.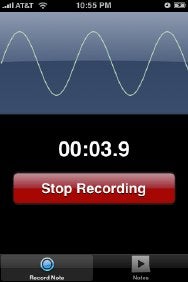 The application lets iPhone users record a voice note, save it in a "Saved Notes" list and automatically send it to an e-mail address you specify. The e-mail can be sent automatically, so they're waiting for you when you arrive at your location.
WebIS notes that because of limitations in the iPhone e-mail client software, the e-mail sending capability is done through a passthrough server that accepts voice notes via a Web service and then e-mails the note on to the recipient you've specified.
The iPhone's accelerometer and proximity sensor are used to start and stop recording automatically. Note2Self operates as long as there is free space, and lets you choose from AIFF uncompressed or 4x compressed IMA4 format — both can be played back using QuickTime.