One of the best parts of the 2.0 software update for the iPhones and iPod touch is its support for third-party software via the App Store. But as anyone who has installed and used such apps knows, the first attempts from many vendors are clearly 1.0 products—they can be sluggish, crash-prone, and feature-poor.
And that's why the update feature Apple built into the 2.0 software and iTunes is such a good idea. In order for developers to get their apps on the store at launch, they had to submit them for approval ahead of time. In many cases, newer versions were already done and waiting to be added to the system and pushed out to users. My big problem so far, however, is that the update mechanism doesn't work very well.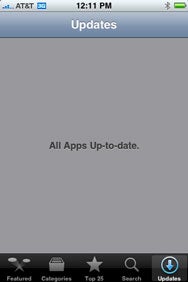 This past weekend, I noticed when sorting iPhone applications by date within iTunes' App Store interface that a few of the apps I use had new versions available. So I tapped on the Updates button at the bottom of the App Store app on my iPhone, hoping to find find the latest versions—instead, I was greeted with "All Apps Up-to-date." It wasn't until I went back to iTunes, selected Applications from the Library section of the sidebar, and clicked on Check For Updates at the bottom of the screen that I was able to download the new version (and then, of course, I then had to connect and sync my iPhone to get them to transfer over from my computer).
Also, there seems to be a problem where iTunes and the iPhone get confused by apps that change names between updates.
Another annoyance I have is, I've spent a lot (OK, not a lot, but some) time arranging my apps on my iPhone so I have the ones I use the most on the first page. But when you install an update, your phone just sees it as a new app and place it at the end of all your applications.
It seems clear that Apple's app update feature needs some work. I'm hoping these are known issues for Apple (a spokesperson didn't respond to my request for more information about update problems), and the company will make improvements soon.
What have your experiences been like with updating apps so far?