Tycoon Games has teamed up with Hanako Games to release Summer Session, a "dating sim" game for the Mac and Windows. It costs $19.95, and a playable demo is available.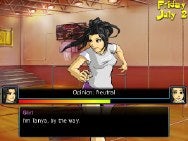 In Summer Session, you take the role of Julius, a socially-awkward student who's taking summer classes at his university. He meets cute classmates, a sexy biology teacher and makes friends with other guys on campus — but what will it take for awkward Julius to get a date? Every choice you make affects Julius's skills and his reputation. You have until the end of the summer term to … uh … score.
"Dating sims" are popular video game pastimes in Japan, and Hanako Games, founded by Georgina Bensley, has capitalized on that popularity to develop dating sims for a western audience. Most of Hanako's offerings are made specifically for Windows PCs. But Tycoon Games — started by niche game maker Winter Wolves' owner, Riva Celso — has developed Summer Session for both Mac OS X and Windows platforms.
System requirements were not listed as Macworld posted this article, but the demo download is a PowerPC binary (that operated fine on a MacBook Pro).