Between Enigmo and Cro-Mag Rally, Pangea Software decided to recycle its existing games to support the new platform rather than develop new original titles. I find Enigmo ( to be a much more compelling iPhone offering than Cro-Mag Rally, even though Cro-Mag Rally got the early press.
Cro-Mag Rally originally made its debut on the Mac. It's a go-cart racing game featuring cartoon-style cavemen and dinosaurs, and it was popular back in pre Mac OS X days. It's one of Pangea's biggest hits, in fact, so it's understandable why they'd give it another try here.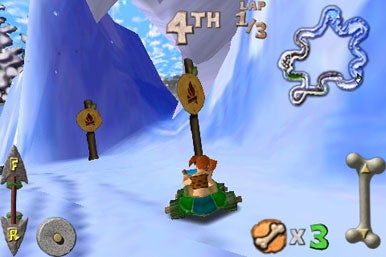 Cro-Mag Rally makes an easy conversion to the iPhone. Graphics are large and clear, the sound effects and soundtrack of the original game are here, too, and gameplay has been retained. You guide your caveman (or cavewoman) through a series of courses that wind to and fro, past hazards (lava pits, tornados and such), while you pick up power ups (like bones you can throw as weapons, extra traction for your tires, and oil slicks) you can use against the other drivers.
There are two main game modes—Race, in which you're trying to beat the other computer-controlled players to the finish line, or Gather, in which you're trying to pick up objects around the track as quickly as possible. And there are a number of different track options—everything from a desert setting to a jungle environment, ancient Egypt and an underwater course (Atlantis) that trades in the caveman carts for submarines.
For the most part, you control vehicle acceleration using on-screen forward and reverse buttons along with the iPhone's accelerometer, to control left and right direction. You can also tap an icon to let loose with your weapons if need be.
The game lets you choose from several different vehicles, each with different performance characteristics. Some accelerate better, others take corners in more control. The powerups can also help augment your vehicle's handling capabilities.
I found the on-screen controls to be somewhat awkwardly placed and a little too small for my fingers to use conveniently. I'd often find myself stopping mid-track for no apparent reason, only to discover that my finger had slipped slightly off the "hot spot" for the gas pedal.
Pangea has wisely included options that let you adjust difficulty, steering sensitivity and other settings. iPhone users can also turn off vibration, a fun but distraction option that can also wear down the iPhone's battery.
Ultimately, Cro-Mag Rally is a fine iPhone game and really helps demonstrate what the first generation of action games for this new platform can do. The novelty wears thin quickly, however—a problem I don't have with Pangea's other iPhone game, the kinetic puzzle game Enigmo.
Cro-Mag Rally is compatible with any iPhone or iPod touch running the iPhone 2.0 software update.
[Peter Cohen is a Macworld senior editor and Game Room columnist.]