You can't miss the slogan—it's plastered everywhere. "Twice as fast. Half the price." Just this morning, in fact, Apple posted a bunch of new ads that repeatedly drive the point home about the 3G wireless speeds of the iPhone 3G as surely as if we were all strapped to that chair from A Clockwork Orange.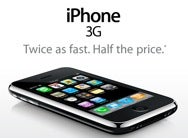 While there's been no end to the dispute over the true cost of the iPhone 3G when you factor in the monthly service charges you'll be handing over to AT&T (along with your firstborn child), less attention has been given to actual wireless data speeds of the iPhone 3Gs versus the original iPhone. Our fearless leader, Jason Snell, did run some speed tests in the course of reviewing the iPhone 3G, we wanted to look a little further into the matter and find out if the iPhone 3G really twice is as fast as its predecessor.
The answer? I'll have to say definitely maybe, if you can excuse the reference to the recent Ryan Reynolds weeper. We were spurred to action by an e-mail from reader Jeff F. of the great Metro-Boston realm, who said the speeds he was getting on his iPhone 3G were a mere shadow of those that AT&T and Apple were touting; he also pointed us to a MacRumors forum thread of people having similar problems. So, we decided to do a little informal testing of our own.
Since I too reside in the Bay State, I fired up my black 16GB iPhone 3G and set to work running speed tests. The results were…intriguing, and also, to some extent, explanatory. Those of you who listened to our recent Macworld Podcast roundtable on the iPhone 3G may recall that I was the lone defender of the EDGE network, as well as the one who was least impressed by the 3G's much-ballyhooed speed increase.
Turns out there's a reason for that: while AT&T's 3G network has very good coverage in the Metro-Boston area, according to the company's coverage map, the network itself appears to suffer from what you might call "general listlessness." In fact, at times, it's (unbelievably) downright slower than the EDGE network, if my test results are accurate.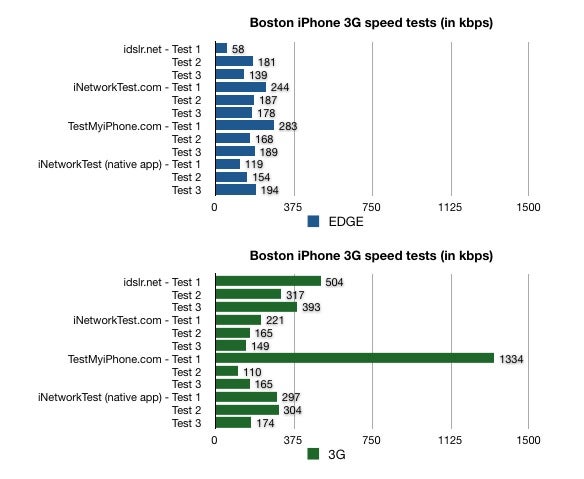 After reporting my findings to the Justice League that is Macworld's crack editorial team, my colleague Jon Seff was gracious enough to spend the time to perform the same tests from Macworld's offices in San Francisco.
This is where the results get even more bizarro. While San Francisco's 3G network is apparently about 1.6 times faster than Boston's 3G network, Boston's EDGE speeds are about twice as fast as San Francisco's. So while the difference between Boston's 3G and EDGE networks does seem pretty close to the 2x number that Apple is touting (on average, anyway), San Francisco sees much better results, to the tune of 6.5 times faster.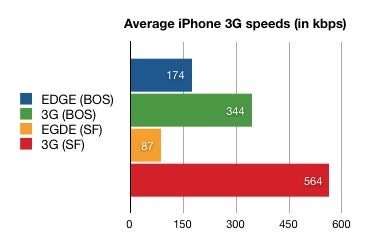 It's also interesting to note from our tests is that in both Boston and San Francisco, EDGE speeds were fairly consistent, while 3G speeds seemed to show more fluctuation between individual tests.
Of course, there are any number of caveats here: despite the fact that I ran three tests per network from i.dslr.net, iNetworkTest, and TestMyiPhone.com, as well as using iNetwork Test's native iPhone application, my phone is but a single data point, as is Jon's (and we each tested only at one time and one location). Geo-location will clearly show you that we're not even in the same neighborhood as real scientific results.
So we appeal to you, dear readers, and invite you to share with us your own results and experiences using the 3G network. Is it really twice as fast? Faster? Slower? Let us known in the comments below.