At a Glance
Expert's Rating
Pros
Speedy eSATA connection
Attractive design
Cons
Fan noise may be bothersome
Our Verdict
The LaCie Hard Disk Designed by Neil Poulton is a desktop hard drive that can connect to your Mac via FireWire 400, USB 2.0, or eSATA. It features an interesting design-a shiny black rectangular box with sharp corners, and a blue activity light located on the lower front of the drive that reflects off of your desktop. The drive uses a 1TB, 3.5-inch, 7,200 RPM mechanism, and requires external power to operate.
Many external hard drives we've tested lately feature aluminum cases which act as heat sinks, allowing the drives to operate quietly without a constantly whirring fan. The Neil Poulton drive, however, uses a plastic case and does require a fan. It's not terribly loud, but even with the air conditioning, office chatter ("Can you please hold it down, people, I'm trying to work here!") and multiple Macs running in the lab, the fan is audible. If you have a microphone nearby, like the one built into a MacBook, the mic will pick up the fan noise.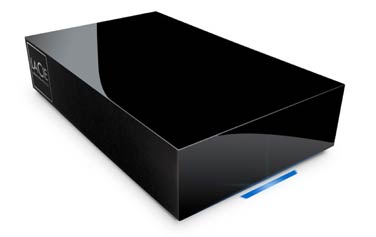 We tested the drive using all three connections, and the Neil Poulton drive posted results comparable to other desktop hard drives we tested, such as LaCie's d2 Quadra ( ). When comparing the performance between the Neil Poulton drive's different connections, we found, as expected, USB 2.0 to be the slowest connection, with times that were 6 to 20 percent slower than FireWire 400. The fastest performance was in our eSATA trials, with times that were 20 to 57 percent faster than FireWire 400. Unfortunately, no Macs ship with built in eSATA support, so an expansion card needs to be installed in either your Mac Pro or MacBook Pro in order to use that fast connection.
The drive ships with LaCie's 1-Click Backup Software, and it also supports Apple's Time Machine backup utility. We were able to use the drive as a boot drive when connected to a Mac Pro using USB or FireWire.
Timed trials
| | |
| --- | --- |
| Copy 1GB file to FireWire 400 | 0:45 |
| Copy 1GB file to USB 2.0 | 0:51 |
| Copy 1GB file to eSATA | 0:30 |
| Duplicate 1GB file via FireWire 400 | 1:16 |
| Duplicate 1GB file via USB 2.0 | 1:31 |
| Duplicate 1GB file via eSATA | 0:33 |
| Low-memory Photoshop: FireWire 400 | 1:36 |
| Low-memory Photoshop: USB 2.0 | 1:42 |
| Low-memory Photoshop: eSATA | 1:18 |
Times are in minutes:seconds
Specifications
| | |
| --- | --- |
| Price per gigabyte | $.27 |
| Connectors | eSATA (1), FW400 (1), USB 2.0 (1) |
| Rotational speed | 7200 rpm |
| Other capacities | 500GB, 750GB |
Macworld's buying advice
The LaCie Hard Disk Designed by Neil Poulton offers multiple connection options, zippy eSATA performance and a striking design. If you are sensitive to noise, you may want to look for a fanless hard drive. If not, the Neil Poulton drive is a versatile drive worthy of consideration.
[James Galbraith is Macworld's lab director.]