Namco has brought its classic coin-op arcade game Pac-Man to the iPod ( ), so it's fitting that one of its first iPhone offerings is another version of Pac-Man. This new release for the iPhone and iPod touch is easier to see than the original iPod game, that's for sure. It also has some innovative control options, though it comes up short on the game play side.
Pac-Man is the classic maze action game. You're the yellow guy with the voracious appetite, gobbling up pellets that are distributed throughout the maze while dodging ghosts that want to eat you. Four "power pellets" in diagonal corners grant you invulnerability for a short time, and make it possible for you to eat the ghosts, who turn blue. Later levels get faster paced and the ghosts take less time to turn back to their regular form when you eat power pellets. It's repetitive, sure, but for anyone who grew up in the 1980s and loves retro games, it's a bit of nostalgia, and Pac-Man for the iPhone is a picture-perfect recreation of the coin-op arcade game.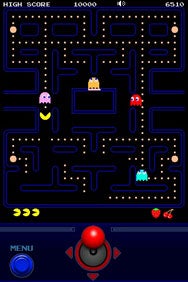 One of my complaints with the older Pac-Man for iPod is that the screen was too small. Namco has taken advantage of the iPhone's larger screen to good effect—I no longer feel like I have to look at the game under a magnifying glass to see what's going on. The iPhone's control system presents its own unique challenges, as there's no joystick to control Pac-Man.
By default, you control Pac-Man using an on screen directional pad—a graphic representation of the same sort of control you'd find on a handheld gaming system. You can also opt to use the iPhone's accelerometer, banking it up, down, left and right to make Pac-Man do your bidding. Finally, you can use "Swipe" control and swipe up, down, left and right gestures on the iPhone's screen to make Pac-Man move where you want him to.
Maybe my reflexes aren't what they once were, but I got frustrated with all three control schemes. Swiping seemed to work the best, but even then it was slow, and control (and gameplay) felt sluggish and off-tempo. The net result was that Pac-Man would get into a tight bind and I couldn't get him out in time to save him getting eaten by ghosts.
I've already paid $5 for Pac-Man for the iPod, which seemed about the right price. Pac-Man for the iPhone costs $10, and the novelty and nostalgia just aren't worth it, compared to what else $10 buys you in the games section of the app store.
Pac-Man is compatible with any iPhone and iPod touch running the iPhone 2.0 software update.
[Peter Cohen is a Macworld senior editor and Game Room columnist.]