Whether you're trying to keep track of a zillion tabs, navigate your bookmarks, or deal with a page that just won't load, the more you use your Web browser, the more likely you are to run into problems. But with the help of hidden features and third-party add-ons, you can tackle these troubles and squeeze even more efficiency out of Apple's Safari 3 ( ) and Mozilla's Firefox 2( ) and 3.
Keep Tabs on Your Tabs
Safari's and Firefox's tabbed browsing features let you open multiple sites within a single window, thereby reducing screen clutter. But some aspects of tabbed browsing are less obvious.
Open Tabs in the Background Say you've just performed a Google search. You now have a results page, which probably includes tons of links you'd like to visit. You could simply click on a link to view that page in the current window, and then click on the Back button or the SnapBack icon in the Search field to return to the results. But an easier way is to Command-click on each link (in Safari or Firefox), which opens pages in new background tabs. You can continue navigating your search results in the foreground. (If the shortcut doesn't work in Safari, go to Safari: Preferences, click on Tabs, and select Command-Click Opens A Link In A New Tab.)
Restore Tabs Automatically After hours of browsing, you often end up with several open windows, each with its own set of carefully culled tabs. Murphy's Law dictates that this is the moment your browser will crash. But you don't need to find all those pages again manually. In Firefox, choose Firefox: Preferences and click on Main; from the When Firefox Starts pop-up menu, choose Show My Windows And Tabs From Last Time. From now on, Firefox will keep track of all open tabs and windows, and restore them automatically when the browser restarts. (When restarting Firefox after a crash, click on the Restore Session button.)
Although Safari doesn't have an auto-restore feature, you can manually regain sites by selecting History: Reopen All Windows From Last Session. To restore sessions automatically, try Hetima Computer's free SafariStand 3. Once you've installed it, choose Stand: SafariStand Setting. Under General, from the Restore Method At Launch pop-up menu, select Automatically Reopen Last Session (Safari). Note that the software uses an unofficial method to alter Safari's behavior. It could stop working after an update to Safari or OS X.
Find Pages
How many times have you read something on the Web and later had no idea where to find that information again? Although browsers keep track of your history—a list of URLs you've visited recently—that isn't much help if you don't know the name of the site or if the page is no longer in the history list. There are several ways to solve this problem.
Use a Search Tool If you're running Mac OS X 10.5 (Leopard), you can easily search the contents of pages you've visited. That's because Spotlight indexes everything you look at in Safari, except when you've enabled private browsing (Safari: Private Browsing). Click on the Spotlight icon in the menu bar and enter your search term, and Spotlight will display a list of matches under Webpages. But there's a catch: even though Spotlight knows the text that was on the page, it can't display that text if the page no longer exists. For that, you'll need a more powerful tool, such as St. Clair Software's $20 HistoryHound 1.9.2.
If you haven't upgraded to Leopard, or you don't use Safari, check out Google's free Google Desktop( ). Like Spotlight, Google Desktop indexes the contents of pages you visit; also like Spotlight, it doesn't store pages, so you must go back to the original site once you've discovered a match. But unlike Spotlight, Google Desktop supports numerous browsers (including Firefox), and can even index messages from your Gmail account, not to mention other files on your hard disk.
Clip Your Content Although you can't beat the convenience of programs that automatically save and index your Web pages, they can quickly overwhelm you with irrelevant information. For better control, consider a program like Bare Bones Software's $39 Yojimbo 1.5( ) or Devon Technologies' $40 DevonThink 2. Both let you manually clip and store Web pages—or portions of pages—in searchable databases.
An even more promising option is Evernote Corporation's free Evernote, a service that lets you clip information such as Web pages, text snippets, and images, and access it through software on your Mac, a Web browser, or a mobile device such as an iPhone. The service indexes all of the text in your clippings (even text that appears in photographs), so you can easily search for content from any device.
Keep Bookmarks in Sync
If you have multiple bookmark lists strewn across different browsers—or even across several machines—it's time to rein in the chaos.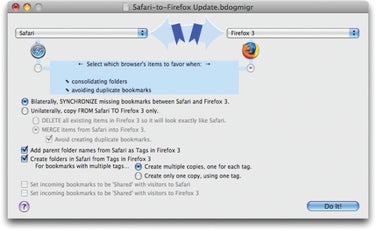 Sync Your Bookmarks If you use several browsers, each with its own set of bookmarks, try merging them with Sheep Systems' $20 Bookdog 5.1. The software can display, edit, verify, and sort bookmarks from multiple browsers, as well as copy or merge bookmarks between two different browsers. It can also sync with Google Bookmarks, so you can use those bookmarks online.
Make Bookmarks Universal If you prefer to access bookmarks from one place, consider a bookmark manager. Alco Blom's $25 URL Manager Pro 3.5( ); stores bookmarks in its own database, providing a systemwide menu that allows you to select them from most browsers. Agile Web Solutions' free AllBookmarks 3 displays a menu-bar item containing all of your bookmarks from Safari and Firefox, as well as from the free Flock 1.0.3 browser( ), the Camino Project's free Camino 1.5.5( ), and the Omni Group's $15 OmniWeb 5.6( ). Selecting a bookmark opens that page in your default Web browser.
Sync Online If you use Safari, you can use Apple's new MobileMe service to sync Safari bookmarks between multiple Macs, just as in the past, you were able to use .Mac.
Firefox users can download the Foxmarks Bookmark Synchronizer add-on, which provides online syncing capabilities—even across platforms.
Use Predictive Searching
In Firefox 2 or Safari, when you begin typing a URL into the location bar, the browser shows any matching URLs from your bookmark list or browsing history. This lets you navigate to one of the suggested links with the keyboard or mouse.
Firefox 3 takes this autocompletion feature to a new level. It recognizes not only portions of URLs, but also words from the titles of Web pages and tags that you've added to your bookmarks. (To append tags to bookmarks, choose Bookmarks: Bookmark This Page, or double-click on the blue star at the right side of the location bar; enter keywords in the Tags field.) You can also type search terms directly into the location bar. Firefox performs a Google search and either brings up a results page or takes you straight to the top Web page when it finds a clear match.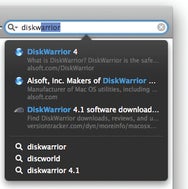 Although Safari lacks these sophisticated autocompletion features, you can enhance its search field using David Watanabe's free Inquisitor 3 add-on. Inquisitor provides intelligent autocompletion—for example, type macw and it suggests "macworld" as a match. Enter lord of and Inquisitor suggests "lord of the rings online" among other matches. Inquisitor also displays pages that would appear in a search for those terms. Type diskw, for instance, and you'll see a list of sites about Alsoft's DiskWarrior utility ( ). Use the arrow keys to jump directly to the result you want—all without having to display a page of Google search results.
Improve Site Support
Once in a while, you might encounter a site that refuses to display properly or that generates an error message telling you your browser's not supported. However, you can sometimes outsmart such sites by switching the user agent setting, a trick that lets one browser masquerade as another. For instance, a site that doesn't work in Safari might work if you change the setting to Firefox.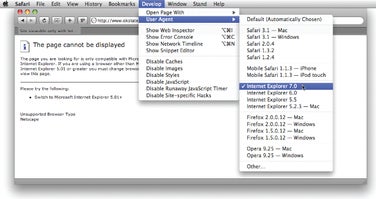 In Safari 3.1.1, you must first enable the normally hidden Develop menu. Choose Safari: Preferences, click on Advanced, and select the Show Develop Menu In Menu Bar option. If you encounter an unsupported site, select Develop: User Agent, and choose one of the browsers listed. Then, in the same tab, reenter the URL you originally tried to visit. If you use Firefox, download the free User Agent Switcher add-on. This appends the User Agent Switcher submenu to the Tools menu; from here you can select a different browser.
Unfortunately, this trick doesn't always work, since some sites rely on features built into Windows, such as ActiveX controls or a PC-only plug-in. The only way to view these sites is by running Windows through Boot Camp or in a virtualization program such as Parallels' $80 Parallels Desktop 3 for Mac( ) or VMware's $80 VMware Fusion 1.1.2( ).
[Joe Kissell is the senior editor of TidBits and the author of numerous e-books about Mac OS X.]