At a Glance
Expert's Rating
Pros
HD video capture
Wide-angle 4X optical zoom
Cons
Lacks optical image stabilization
No HDMI connectivity
Our Verdict
If your budget for a new camera tops out at $200, you could do a lot worse than Pentax's Optio P70. This 12-megapixel point-and-shoot is easy to use and takes decent snaps. It squeezes in several neat features, including HD video capture, but achieving the low price did necessitate making a few compromises.
The silvery aluminum body of the version I reviewed appears a little cheap, but the white and red models are quite attractive—and alluringly slim. Despite being only 0.8 inch thick, the Optio P70 carries a 4X zoom lens with a 27.5mm wide-angle extreme that's great for shooting expansive panoramas. Unfortunately, the camera's shake reduction mode uses software to compensate for shaky hands, rather than shifting the lens or sensor mechanically.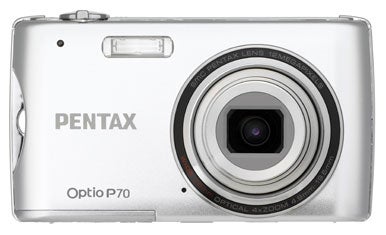 Like many other recent point-and-shoot cameras, the Optio P70 recognizes faces in portraits and uses them to set the focus and exposure automatically. In addition, this model has a Smile Capture mode that releases the shutter only when your subjects smile and that warns you with a beep if anyone blinks. When I accidentally left this mode turned on, I found that the camera shot pictures sluggishly and stored images slowly; but it was much faster once I learned to use the dedicated Smile Capture button correctly. The other controls are sensibly uncomplicated and line up to the right of the standard 2.7-inch LCD display. You can customize the Green Button to handle your favorite extra function, such as exposure compensation or focus area setting.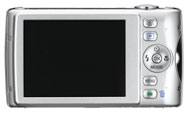 Most cameras priced in the vicinity of $200 let you shoot standard-definition video that works fine for short sequences of friends and family, but looks a bit silly with black bars down the sides on your wide-screen TV. The Optio P70 captures HD video that looks much better, but still lags in quality behind what you'd get from a pricier camera. It records at 720p resolution at just 15 frames per second, and you can't zoom while shooting video. The Optio P70 also lacks an HDMI port for connecting directly to your HDTV. The camera has an HD mode for shooting 16:9 aspect ratio still photos, too, but the 2.1-megapixels images it captures won't look so great for printing or editing.
Jury tests
| | |
| --- | --- |
| Image quality | Good |
| Color quality | Very Good |
| Flash quality | Fair |
Scale = Superior, Very Good, Good, Fair, Poor
The Optio P70 offers a unique Vertical Snap mode that lets you take one-handed portraits as if you were using a camera phone. Once you've enabled this mode, you turn on the camera by holding down the OK button at the center of the four-way controller. Then you press the OK button with your thumb to shoot, and you click the controller's up and down buttons to zoom. I had to flip through the included 256-page printed manual (a pleasant and rare find these days) to get started, but I found the mode easy to use. Ultimately, though, I'd rather see phones become more like cameras than vice versa.
In my informal testing, I took some nice shots of my friend's newborn baby, various sights around town, and a party at a local tiki bar. My most optimistic low-light and macro shots came out poorly (either under- or overexposed), but for general take-anywhere use, the Optio P70 did a good job. It earned an overall image quality score of Good from our jury.
Specifications
| | |
| --- | --- |
| Resolution (in megapixels) | 12 |
| Optical zoom/focal length (35mm equivalent) | 4x/27.5mm-110mm |
| Battery type | Rechargeable lithium ion |
| Media Slots | 1 (SD, SDHC) |
| Size (width x height x depth, in inches) | 3.8 x 2.1 x 0.8 |
Macworld's buying advice
Despite a few compromises, the Optio P70 offers good value for a small, light camera that you can carry anywhere. Considering its12-megapixel sensor, the camera delivers rather lackluster image quality, but it's certainly adequate for the price. Though the Optio P70 lacks a few frills, it is a good value for a stylishly thin point-and-shoot.
[Paul Jasper is a freelance writer.]