If you've got a job that requires you to drive a lot for business purposes, then you've done the devilish dance of mileage tracking before. Federal tax laws allow you to get reimbursed for the amount you have to drive, which is nice, but like most things having to do with taxes, painstakingly recording those figures is not something that falls under the heading of section 7, paragraph 5, sub-section IV, "Fun."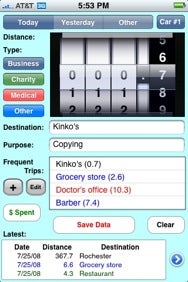 For that purpose, Stevens Creek Software has created TripLog/1040, a native iPhone application that intends to help you simplify the process of keeping track of your mileage. I say "intends" because, while the underpinnings of what the application does are sound, its execution—and especially in regards to its interface—is convoluted and unintuitive. It's also, by the standards of the App Store, on the expensive side which, if nothing else, means that you expect more.
The first thing you see when you open up TripLog/1040 is its extremely busy main screen. At the top, three buttons let you assign the day of the trip: you can pick from the current day, previous day, or specify another date by tapping Other and selecting a date from a rotary dial that slides in. There's also a somewhat enigmatic button labelled "Car #1"; if you hit that, it will slide out a menu that lets you choose from three separate cars (since you can deduct mileage from different vehicles).
On the left hand side of the screen, you can pick the purpose of the travel by tapping one of four buttons: Business, Charity, Medical, or Other (mileage marked as "Other" is not considered tax deductible). Unfortunately, it's extremely difficult to tell which button is selected, since they change color only subtly when tapped. Selecting a button does change the color of the trip when it's shown in lists.
Below the mileage dials, you can enter the destination and purpose of the trip for your own reference and below that you'll find a list of frequent trips. You can add the current trip to your list of favorites by hitting the Plus button and remove it by tapping Edit, tapping the red minus sign next to the item, and then hitting delete (you can also reorder them when you're in Edit mode). Tapping a frequent trip will automatically fill in the fields with those details.
Hitting the $ Spent button on the left side of the screen will slide in another pane that lets you choose how much you spent on parking and tolls. Once you're finished specifying all the information about your trip, you can tap the Save Data button to enter it all, or hit Clear to immediately erase and start over (though there is no confirmation that you want to erase your data). One annoyance is that if you accidentally tap a frequent trip when you're entering data, all of the existing data will be wiped out, unless you've already saved it.
At the bottom of the screen is a list of your three latest trips, along with a blue arrow that lets you view your list more in-depth on a separate screen. Unfortunately, the blue arrow is very small, and I had trouble getting it to recognize my taps, so I usually had to tap it a few times before it responded.
On the Recorded Entries screen, you're presented with a list of the trips you've entered. Double-tapping any of the trips will take you back to the main screen with the information already filled in so you can then edit it and tap the Modify Data button. Despite the fact that TripLog/1040 does tell you that you need to double tap the entries, I found that extremely unintuitive, given that most list selections on the iPhone work via single tap.
There are also a number of options for displaying summaries. Tap the 1+1 button, and you'll be shown a menu of summaries such as a total for the entire log, the previous year, previous week, month-to-date, week-to-date, and so on: choosing any of them will pop up an ill-formated, hard-to-read dialog box with the summaries of your tax-deductible miles and other statistics. A much nicer feature is the ability to send any of the summaries in an e-mail, where they're presented in a tab-separated format that's easy to paste into a spreadsheet.
The Recorded Entries screen also provides a button for removing trips from the program: you can remove previous months or years, or just flush the entire log, but it doesn't give an option to remove a single entry—to do that, you have to swipe-delete as with the iPhone's Mail program. There's also a button at the bottom which will take you to the program's web-based manual in Safari, though it's a little confusing since it uses the same icon as Safari's bookmarks (and it says something about the complexity this program that the developer thought it was necessary to include a link to the manual). Likewise, there's a mysterious button that resembles the Mail application's Compose message button, but it just seems to bring up a dialog box reminding you to tap an entry to modify it (even though, as I mentioned before, doing that requires a double tap).
At the end of the day, TripLog/1040 is a solid idea and it could very well be a lifesaver for those who frequently have to track mileage, but the interface is a mess. Stevens Creek has crammed as much information as possible onto the program's main screen, and the result is crowded and difficult to use. Buttons are small and difficult to hit with precision, sometimes resulting in accidentally pressing a neighboring button, or requiring you to hit the button more than once.
Other buttons don't do what you expect them to, or present information in strange fashions (panels that slide in from nowhere). The idea of using dials to mimic an odometer may look appealing, but it's far more annoying to enter data than with, for example, a numeric keypad. As a whole, the program is profoundly unintuitive and, frankly, un-iPhonelike; it does nothing to make its function more appealing or easier-to-use than a common notebook.
TripLog/1040 is compatible with any iPhone or iPod touch running the iPhone 2.0 software update.
Updated 7/29 to clarify the record delete functionality.
[Associate editor Dan Moren edits the MacUser blog.]