Popcap Games turned the casual game world on its head with Bejeweled; while it wasn't the first "match three"-style action puzzle game, it set off countless competitors and helped secure the company's reputation as a premium casual game publisher. Popcap is hoping to bring that success to the iPhone with Bejeweled's successor, Bejeweled 2.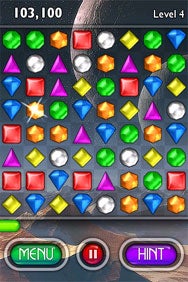 For the uninitiated, the concept behind Bejeweled 2 is exceedingly simple: You're presented with a playfield awash with sparkling gems of different colors. You can switch the position of gems horizontally or vertically by one space, swapping them with an adjoining gem—but only if that new position yields a matching row or column of three or more gems of the same color. Create a match and they'll disappear; you'll be awarded points, and that row or column will collapse and fill in from the top of the playfield. It's totally accessible even for novice game players and addictive as a bucket of popcorn at the movies.
Bejeweled 2 for iPhone has two gameplay modes. There's Classic, in which each matching set of gems makes a thermometer bar grow closer and closer to the end, starting a new level, and Action, in which you're battling against a clock to beat each level. The basic mechanics of the game are the same, as are the "powerups." For example, match four gems, and you're rewarded with an exploding gem that will make all the gems in adjoining cells disappear. Match five and you'll get a super gem that will make all the gems of the color you select disappear in a blaze of electric arcs.
I found Bejeweled 2 to be a well-behaved app; if you need to do something else that takes you to the iPhone's home screen, Bejeweled 2 will ask you the next time you start the game if you want to resume where you left off. The quality of the graphics and audio are quite good; gems spin and glimmer, there are rotating animations, background images and other effects to keep your eyes occupied.
My only complaint with Bejeweled 2 is the price. At $10, this game is commanding a premium price—that's the upper echelon of game cost on the App Store. And Bejeweled 2, despite its production value, isn't a terribly complex or deep game. It'd be worth it for $5—the same price I paid for its iPod predecessor.