Fabrik on Monday announced its SimpleTech [re]drive, a new 500GB external drive with USB 2.0 connection. It costs $159.99.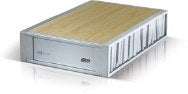 Billing the drive as the "world's most eco-friendly," Fabrik touts the drive's external chassis as being made of bamboo — a very renewable resource that's also quite strong, 16 percent harder than maple. It's also made from recycled aluminum. The sides of the case have a unique rippled design that Fabrik says acts as a heat sink to cool the internal drive mechanism off without needing a fan, so the unit remains power-efficient also.
Fabrik has also paid attention to recycled content in the packaging, and has slimmed down the packaging to just the bare essentials to create as little waste as possible.
The drive uses "Turbo USB 2.0," a new technology that promises to provide faster performance for USB 2.0 hard drives by storing information in currently unused frames of data. Fabrik will offer a Mac version of Turbo USB 2.0 drivers for download from its Web site soon.
The drive also comes packaged with Prosoft drive backup software for Mac OS X.