With the advent of the App Store, iPhone (or iPod touch) users now have several choices for staying on top of the latest headlines. We've already looked at Mobile News Network ( ), an application to help you keep up with what's happening in your area of the world. Another entrant in this category is NowLocal; although it's not as feature-rich as Mobile News, this headline service gets the job done.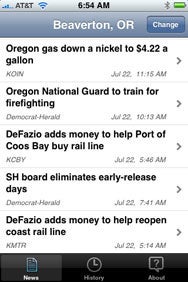 NowLocal can use the iPhone's location services to locate your phone, or you can manually input a location based on city and state or zip code. Unlike Mobile News, however, NowLocal can only store one location at a time, requiring you to switch the location each time you want to check the news for another locale. The main screen presents 10 local headlines and story snippets, with a link to show the next 10 at the bottom of the list. A button at the bottom of the screen takes you to a history page, which shows the stories you've read.
When you tap on a headline, you go to a longer summary of the article. Buttons on this detail screen let you e-mail a link to the story, or view the full story in NowLocal's built-in web browser. (Unlike Mobile News, which provides the actual text and images from the Associated Press, NowLocal links to Web sites that contain the full article.)
While missing Mobile News' images and support for multiple locations, NowLocal is still a good alternative for local news. The interface is intuitive and fast, and the application's built-in browser saves a trip to Mobile Safari to read full articles. Hopefully, future updates add the ability to rotate the web browser and support more than one location, which will make the program even more useful.
Updated at 9:55am on July 30 to correct the company name.