Accessory maker ezGear has released a combination car and wall charger that can power up to two devices at the same time.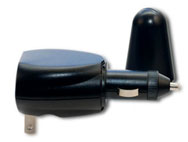 The PowerBullet 2×2 power charger is compatible with both the iPod and the iPhone. It sports a wall plug on one end and a charger that plugs into the power socket of a car on the other. A cap covers up the car charger when the PowerBullet is plugged into a wall socket; when the device is plugged into a car, the wall plug folds into the device.
The accessory's back features dual USB ports for connecting and charging mobile devices.
The PowerBullet costs $20.