Despite the widespread shortages of iPhones all across the country, if you're still willing to spend your hard-earned time standing in line in front of your local Apple Store, you've got help on your side. You probably already know about the iPhone availability checker, which tells you the night before whether or not a store has phones in stock for the following day.
But Apple's recently put into place a few changes to hopefully make the iPhone acquisition process a bit more friendly for its dedicated customers. A note on Apple's iPhone retail page says that Apple Stores will now open at 8 a.m. local time on every day except for Sunday.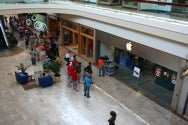 Furthermore, while you're standing there in the line, contemplating the fine construction work of the store, store staff will "prequalify" you to purchase the phone (which we presume involves doing all the sorts of administrative details that you'd otherwise need to do at the counter: credit check, paperwork, blood test, etc.). In exchange, you'll get a claim ticket for the iPhone model you want—it's just like winning one of those carnival attractions like guess the number of marbles or hit the monkey with a pie.
Of course, you can turn in your ticket when you finally get into the store, but if you decide you want to wait, the store will throw in this set of chef's knives absolutely fr—wait, no that's not right. No, if you need to leave the line because of some lame reason like "oh, I have to go to work", don't worry: you can return at the end of the day—before 6 p.m.—and redeem your ticket then (4 p.m. on Sundays). Presumably, after that point, they give away your iPhone to someone more deserving—someone who waited in line all day.
While this helps avoid having people wait in line only to be turned away when they finally get in the store, it suggests that the iPhone shortage isn't in danger of coming to a close any time soon.