A couple weeks ago, I reviewed Apple's Remote app, which lets you use your iPhone or iPod touch as a remote for your Apple TV or for iTunes on a Mac or Windows PC—you get a touchscreen interface for controlling playback that looks nearly identical to the iPhone's iPod mode. By letting you quickly and easily browse through long lists of media—and even search for particular items—Remote provides a near-perfect solution for my biggest beef with the Apple TV: excruciatingly-slow list scrolling.
But in testing Remote for that review, I missed a feature—and it's a good one. You see, my other big interface beef with the Apple TV is that whenever you need to enter text—for example, a username, a WiFi password, or a YouTube search—you have to use the directional-arrow buttons on Apple's overly-simple remote control to move a tiny cursor around an onscreen keyboard, laboriously choosing each letter you want to enter. One attempt at entering a hex WiFi password was all it took for me to curse Apple for not letting me connect a keyboard to the Apple TV's USB port.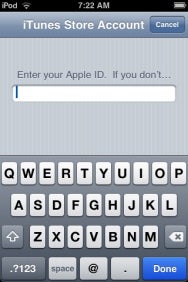 But as Macworld contributor John Gruber recently pointed out, Remote—the iPhone application—solves this problem, as well. If you're browsing your Apple TV's menus with Apple's remote control and you come upon a screen that requires text input, just launch Remote on your iPhone or iPod touch. You'll see a snippet of the Apple TV's menu text on your touchscreen, along with the now-familiar iPhone touchscreen keyboard; any text you enter on that keyboard will appear, in real time, on your TV screen.
This means the only real limitation of the Remote app for controlling an Apple TV is that it won't let you browse the Apple TV's actual menus (for example, for choosing a movie to rent or for changing settings). Here's hoping Apple adds that feature so I can finally ditch the Apple Remote—the plastic one—for good.