Nowadays, most cell phones have cameras and, as a natural extension, the ability to instantly send pictures you take to your friends' phones via the Multimedia Messaging Service (MMS)—the visual equivalent of text messaging. It's surprising, at times, that the iPhone doesn't allow this, especially given its status as one of the most multimedia-capable phones in the world. Sure, there are workarounds that let you send photos using the iPhone's e-mail application, but if a $30 cell phone can send picture messages, why not a $199 one that also boasts superb photo viewing and an excellent SMS client?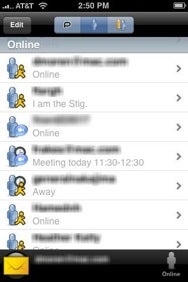 Fortunately, there's Palringo which, despite the fact that it sounds like an app that'll help you befriend the former Beatles drummer, is actually an attempt to plug this functionality gap. It's an iPhone version of the "rich messaging service" client the company already makes for several other platforms, such as Windows, OS X, Linux, Symbian and Windows Mobile.
Palringo links in with most major existing instant messaging services: AOL's AIM, Google Talk, Yahoo! Messenger, Gadu Gadu, ICQ, Jabber and Windows Live Messenger. Once you've created a Palringo account and added one or more of your existing IM accounts, you can send text and picture messages (culled from your camera or iPhone's photo albums) to your buddies, all free of charge. And because it uses the iPhone's data connection, it won't rack up extra charges or count against your SMS limit. The company says it is also aiming to bring voice messages to the iPhone, a feature that's already supported in Palringo clients on other platforms.
Text messaging works a lot like AOL's IM client, with the ability to carry on multiple conversations with your buddies, as long as the program's active. You can swipe through your conversations with the toolbar at the bottom, or use the pop-up menu in the bottom left to pick which message you want to look at.
Of course, Palringo's not really a true MMS replacement, since it piggybacks on the IM networks rather than sending messages via the SMS protocol. While you can send pictures from your iPhone to your IM contacts, Palringo accomplishes that by uploading your picture to its own website and sending your contact a link to the picture in question.
While you can use the AIM to SMS trick to send messages to your friends who don't have IM clients on their phone, they still just get links to the pictures, not MMS messages—and if they don't have smart phones, that just means an extra step for them to load pictures. In my experience, I also had little luck sending picture messages from my computer to my iPhone.
Palringo may not be a replacement for native MMS support, but failing that, it's still brings the features of a multi-protocol IM client, which is something plenty of users might find handy.