So two years ago, after I went on a protracted business trip/vacation and forgot to pack a cable for connecting my digital camera to my MacBook Pro, I was moved to pen this heartfelt, though not necessarily well-thought-out suggestion for Apple's next retail effort. The gist of my argument was that Apple should open a slimmed-down version of its brick-and-mortar store inside the increasingly mall-like airports around the country. That way, the company could sell accessories, gear, and whatnot to forgetful travelers such as myself or maybe even an iPod to someone faced with the prospect of a cross-country flight marred by the airline's forced viewing of a tedious romantic comedy starring Ashton Kutcher. If it meant not having to watch an Ashton Kutcher movie, I might buy an iPod at an airport—and I already own one.
My little brainstorm about retail strategy had come two years after Apple's 2004 unveiling of a "mini" design for its Apple Store. The mini stores—still open for business in places like Palo Alto, Calif., Syracuse, New York, and Rockaway, New Jersey, among other locations—are roughly half the space of Apple's most common retail layout and aimed at extending the company's reach to areas that otherwise might be too small to merit a full-sized Apple Store. At that 2004 unveiling, Apple senior vice president of retail Ron Johnson even dangled the possibility of airport-based retail outlets, not unlike the ones I would write about two years later.
I hadn't thought much about any of that—Apple's mini stores, my call for airport-based retail outlets, my inability to pack properly—until the other day when I was rushing through the Oakland International Airport to catch a flight. There's an unstaffed kiosk in Terminal One that happened to catch my eye.
As the "iPod" signage suggests, this vending machine skews heavily toward music player-themed merchandise. You have different iPod flavors, of course—you can see the shuffles, nanos, and classics on the right side of the case. And shoppers-on-the-go also have their pick of headphones, cases, and the like—names like Shure and Sony stood out, but I'm sure there were more accessory makers represented in the case. You could also find other gear—an AirPort Express base station, which makes sense given how that power brick-sized networking device could appeal to business travelers who want wireless connectivity when they're on the road.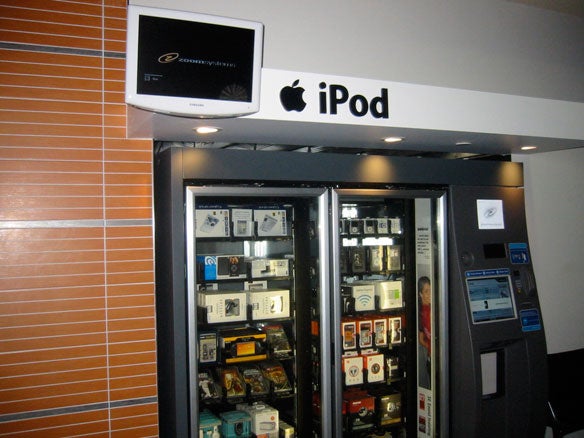 You'll notice in the photo above the prominent Apple logo, not unlike the one you'd find marking the entrance to a proper Apple Store. So my first thought upon seeing that logo was that Apple had finally taken its retail efforts into the realm of airports, as I urged the company to do a couple years back. And my second thought was, "Man, I hope they write me a check for that idea."
But upon closer inspection, the kiosk turned out not to be an Apple-run operation. Rather, it's something called an iPod ZoomShop run by a company called ZoomSystems. And by the looks of ZoomSystems' store locator, the ZoomShop in Oakland was one of many you'll find dotted across this land of ours.
I still think airports offer a nice opportunity to Apple to open a new front for its retail efforts. The presence of retailers like ZoomSystems—not to mention a host of other competitors—suggest that there's money to be made from the collection of business travelers, vacationers looking for in-flight entertainment, and people who realize they're about to board their return flight with no present for the folks back home. Couldn't Apple be counted on to put its own special stamp on this particular retail experience, just like the regular Apple Stores have set a new standard for shopping for the Mac?
I didn't have the time before my flight to patronize the ZoomShop. (If anyone reading this has ever bought a gadget or two from one of these kiosks/vending machines, please feel free to share your experience.) So I can't really dwell on the areas Apple could improve upon if it ever decided to launch airport outlets of its own. But through the Apple Store, the company does a pretty good job of demystifying the experience of buying technology—I imagine the big brains running Apple's retail division could figure out a way to transfer that approach from shopping malls to airport terminals without anything getting lost in the translation. Throw in a couple dedicated Macs where shoppers could download iTunes Store content—music, movies, TV shows—for their flights, and you've got an intriguing way to differentiate yourself from the pack.
It's clear that retail is an important part of Apple's overall strategy. Apple finished its fiscal third quarter with 216 Apple Stores; it plans to have 242 open by the end of its fiscal year. The stores sold 476,000 Macs during the last quarter, half of which were to customers new to the platform. That's an important point, as it illustrates the role the brick-and-mortar stores play in attracting new customers to the Mac. Airport-based Apple Stores could play that part, too—not in selling Macs, obviously, but in bringing iPods and iPhones to new customers eager to find a way to pass the time until they arrive at their next destination.
It seems like a no-brainer move for Apple executives to make. They don't even have to write me a check when they do.