AAMP of America has announced the release of the Automotive Media Gateway, a $169.95 accessory that lets an iPod integrate with the factory-installed stereo system in late-model automobiles.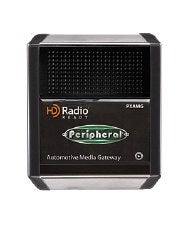 Rather than connecting wirelessly using an available FM signal, which can be prone to low-quality audio and interference the device uses a wiring harness to connect directly into into the automobile's head unit. Harnesses are available for Acura, BMW, Buick, Cadillac, Chevrolet, Ford, GMC, Honda, Hummer, Isuzu, Lexus, Lincoln, Mercury, Mini, Oldsmobile, Pontiac, Saturn, Scion, Toyota and Volkswagen vehicles.
The Automotive Media Gateway — also called the PXAMG — requires a factory head unit that is satellite radio-ready or at least satellite radio-capable. It lets you browse music by artist, album, genre and playlist using your radio controls. It also adds support for HD Radio using an input for a separate HD Radio tuner, and can accommodate another device using an auxiliary input.