At a Glance
Expert's Rating
Pros
Easy to navigate
Nicely directs users to age- and content-appropriate subjects
Cons
No way to lock a user into a certain view, so younger users may access content that's too advanced for them
Our Verdict
If you've spent much time on the Web, you understand that a large grain of salt is required when searching for information. Some sites post "facts" without the proper research or get information from questionable sources. While you may understand this, your child likely doesn't. And this can be a problem for kids doing research for their homework and class projects. Wouldn't it be great if someone took the time to vet the informational Web sites children are likely to use?
Thinkronize has, and the result is its NetTrekker educational search engine. NetTrekker is not a service that blocks inappropriate content—Leopard's Parental Controls or a program such as Intego's ContentBarrier handle that kind of thing. Rather, NetTrekker is a portal for educator-recommended Web sites aimed at elementary, middle, or high school aged children. NetTrekker d.i.—the version of the service available to schools—is currently in use by over 12 million students, according to Thinkronize. The company also offers NetTrekker Home, an individual version of the service that can be accessed as a subscription for $5 a month or $50 a year. I evaluated this Home version, which is available for a two week free trial (credit card required).
When you log into your NetTrekker account, the home page displays three tabs—Elementary (Grades K–5), Middle (Grades 6–8), and High (Grades 9–12). You choose the tab most appropriate for your child's age and ability, as illustrated in the figure below.
As you can see, just below these tabs is a Keyword field for conducting searches. You can narrow those searches to Web, Person, and Image. And when you enter a search term in the Keyword field, results are filtered by grade level. For example, when working in the Elementary tab I entered "Obama" and found a single biographical result. Entering that same term while working within the High tab produced far more results.
Within the service's preferences, you can tell the service which tab you want selected by default on the home page. However, there's nothing to prevent your child from clicking one of the other tabs and therefore producing results that are more or less advanced.
Keywords are filtered appropriately, so that terms such as "breast" aren't completely wiped from the service. For instance, if you enter "breast" while in the High tab, you'll find multiple links to sites detailing information related to breast cancer. In the Elementary tab this same word produces links to sites that provide more approachable overviews of cancer. Some, however, are more appropriate for older children.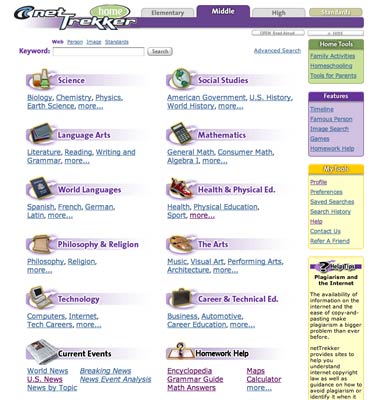 Below the Keyword field are content headings, such as Science, Language Arts, Technology, and Current Events. Click a heading and you're taken to a topic page that breaks down the subject into topics. For example, click Current Events within the Elementary tab and the resulting page displays topics such as Science News, Sports News, and Social Studies News.
When you click a topic link or search by keyword, you're taken to a results page where all appropriate entries are displayed. Each entry is rated from one to five check marks, indicates the kind of media content found on the referenced page (pictures, movies, charts and maps, biographical information, and learning exercises, for example), tells you what language the page is presented in, provides a readability level rating (you can filter sites by readability), and is tagged with the name of the educator who evaluated the site. Click the educator's name to review his or her resumé. Finally, each entry includes a Report Problem link. Click this and a contact form appears, which you can use to pass along your concerns regarding a linked Web site or the NetTrekker service.
Each NetTrekker home page also offers handy Homework Help links to such resources as Microsoft's Encarta Encyclopedia, Bartleby's Elements of Style, the Drexel School of Education's Math Forums, National Geographic's Maps pages, and WebCalc's online calculators.
Macworld's buying advice
NetTrekker doesn't provide links to Web sites that you or your child couldn't eventually find on your own; but in the process of finding those sites, you'd likely waste a lot of time and take several wrong (and possibly inappropriate) turns. If your child spends many hours on the Internet researching his or her homework, a yearly subscription to NetTrekker will prove to be an affordable, efficient, and trustworthy aid.
[Senior Editor Christopher Breen is a former pre-school teacher.]