At a Glance
Expert's Rating
Pros
Takes a non-linear, context-sensitive approach
Creates intuitive 3-D mind maps
Cons
No way to import existing OPML outlines
Steep learning curve for unfamiliar interface
Expensive
Our Verdict
Mirroring the way a human thinks is a tough job for software, but PersonalBrain 4.5, a powerful brainstorming and knowledge management tool, falls just shy of artificial intelligence.
PersonalBrain expresses individual topics as nodes in a mind map, a 3-D representation of the relationships between topics. This mind map is referred to as a Brain. Topics in PersonalBrain parlance are called thoughts. Main thoughts (called Parent thoughts) can have Child thoughts (thoughts related to the main or parent thought), Siblings (thoughts related to the child thoughts), and Jumps (links to different thoughts).
To create a Brain, you start by entering a single thought and begin connecting it together with other thoughts. A thought can represent any type of information: it could be as simple as a person's name or as rich as a photograph of that person. The result, if done carefully, can be a useful means of visually mapping the naturally interconnected thoughts swirling around in your (physical) brain. Any thought can be related to any other thought and to as many thoughts as necessary. That means that you can take different paths to the same thought, depending on context, which is not unlike the way people really think.
Thoughts can include styled notes, attached files, Web pages, and even applications, turning the Brain into a centralized hub for all of your activities. Folders can even be imported en masse, with each file and subfolder automatically becoming an individual thought. Images can be previewed from within a Brain.
Wrapping your own brain around PersonalBrain may take some doing. Although it can be used for many of the same things as a traditional outliner, it works entirely differently. Anything can be linked to anything else, a free-form approach that may leave you wondering where to begin. The payoff is much greater flexibility in how you organize information.
Click on a thought and it becomes the main thought (showing up in the center of the software's main window) with all of its related thoughts surrounding it. It's like looking at a map of the solar system, except that instead of planets, each node represents an individual thought.
The idea behind PersonalBrain is that by connecting thoughts within a dynamic visual interface that can be reorganized with a single click, people will be able to better understand relationships among their information. Usage scenarios are as varied as the individuals who use it: to do lists, presentations, genealogy, and general research are but a few examples. Brains can be created around specific interests, projects, or events. Or you can get really ambitious and try to map everything in your life into a single monster Brain.
Although this is the first version of PersonalBrain for the Mac, the program has been around for years. So it's not surprising that the mind maps PersonalBrain produces can become quite complex and difficult to navigate. To ease navigation, PersonalBrain provides Pins that act as bookmarks, along with a breadcrumb display and a capable search function.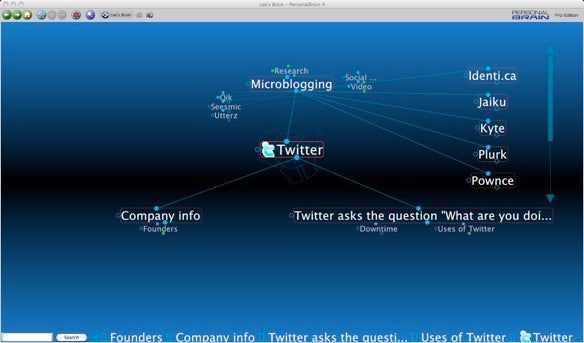 You can easily share your Brain with others, either by exporting it as basic HTML or as a SiteBrain, which uses XML and Ajax technologies to provide browser-based dynamic navigation. SiteBrains are a great way for Web designers to create 3-D site maps for Web navigation. Unfortunately, there's no support for importing and exporting common outline formats such as OPML (Outline Processor Markup Language), which seems a natural for this kind of product. However, you can copy and paste tab-delimited outlines from Word and Excel into PersonalBrain, where they can then become the basis of more sophisticated mind-maps. And you can also export these structures.
If you need help getting started, The Brain provides a number of online tutorials, weekly Web conferences, downloadable Brains, and other resources. Picking other people's Brains is a good way to get some ideas on how to organize your own.
In addition, PersonalBrain comes in three versions, including a basic free version, a Core Edition, and a Pro Edition. Each adds to features from the previous version. If you just need a general organizer to clarify and organize your thoughts, the free version will likely suffice. However, if your needs include a large number of thoughts to manage, file attachments, advanced searching capabilities, templates, and more, the Core Edition might be more useful. The Pro Edition, reviewed here, contains Web sharing, calendaring, printing, spellchecking, and more advanced capabilities for professional use.
Macworld's buying advice
While there are plenty of outliners, Getting Things Done, and project management tools for the Mac, PersonalBrain 4.5 gives you a powerful, innovative non-linear capability. Its closest competitor, MindJet's MindManager 7 ( ), has a more Mac-like interface but imposes a great deal more structure on your mind maps. Being able to associate any thought with another in a free-form fashion, and being able to zoom in on exactly the information you're looking for, will help you uncover the heretofore hidden gems of knowledge in your mountain of information.
[Lee Sherman is a San Francisco-based technology writer.]