Maverick Software on Friday announced the release of PaceCalc, a new utility for iPhone and iPod touch 2.0 users. Available for purchase through the App Store, it costs $1.99.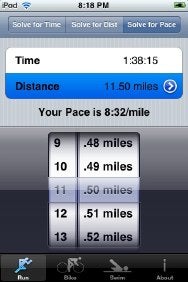 PaceCalc helps runners, cyclists and swimmers to calculate how fast, how far and how long they run, bike or swim. It comes pre-programmed with built-in presets for popular race distances, from 5K to a full marathon or triathlon distances.
PaceCalc supports miles and kilometers, yards and meters and can automatically convert between different units, too.
PaceCalc requires an iPhone or iPod touch running iPhone 2.0 software.