Synium Software on Friday announced the release of MobileFamilyTree, a genealogy application for the iPhone and iPod touch. It costs $4.99 and is available for download from the App Store.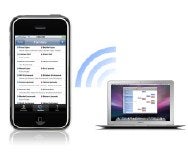 Designed as a complement of sorts to Synium's MacFamilyTree software, MobileFamilyTree enables you to keep track of your family roots and information. The software keeps all the changes you make on your iPhone in sync with MacFamilyTree files, and lets you view, add and edit information wherever you are.
Features include interactive lists for "Persons" and "Families," and detailed information views with direct edit access. You can add and edit multiple "Partners," "Children," "Events" and "Notes." The software is localized in English and German.
In order to have the Mac synchronization features, you'll also need MacFamilyTree 5.2.3 to be installed on your Mac.