Twitter is a fun service that lets you keep in touch with your friends and other people you only wish you knew. Like many people, I've come to rely on it as a backchannel that keeps me in touch with my colleagues and friends in ways that e-mail and instant messaging simply can't. And since the iPhone was first released, I've used Web interfaces to Twitter to read and post Twitter items, known as "tweets," when I'm on the go.
With the release of the App Store, there are now several native Twitter clients for the iPhone. All of these programs show immense promise as well as numerous warts.
Twitterrific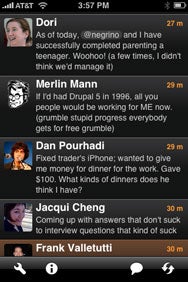 The Iconfactory's Twitterrific is my favorite Mac client for the Twitter social-messaging service, and the new iPhone edition of Twitterrific is my favorite of the first generation of iPhone apps.
Twitterrific displays tweets from your contacts and lets you send tweets. The program includes integration with twitpic.com, so you can take a photo (or pick one from your photo library) and the program will automatically upload it and embed its URL in your tweet. An embedded Web browser lets you tap on user names or hyperlinks and view the contents without having to switch out of the program and into Safari.
The program's interface is excellent, combining simplicity with solid functionality. A series of slide-out "hint" screens appear for new users, cleverly helping to teach you how the program works. But I found the program's large single-tweet view to be mostly a waste of time.
Although Twitterrific provides me with 95 percent of what I use Twitter for, there's still plenty of room for the iPhone version to grow, especially given the tough competition of several excellent iPhone-optimized Twitter web interfaces, most notably Hahlo. Twitterrific can't display all the messages from a given friend; also, it doesn't let you filter tweets to only see your direct messages, messages replying to your tweets, or a list of your own recent tweets. The program's scrolling also feels sluggish. (A forthcoming update will improve the program's scrolling speed.)
Twinkle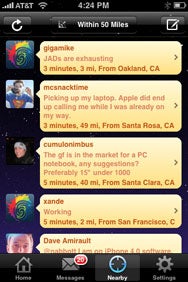 Tapulous' Twinkle is a strong competitor to Twiterrific, but its colorful interface (bright yellow, blue, and gray word balloons on a dark starscape background) is distracting and harder to read than Twitterrific's.
Twinkle's best trait is its location awareness. When you post to Twinkle, other Twinkle users can see what city you're tweeting from. And a tap on the Nearby button lets you see tweets from Twinkle users near you, which is pretty cool. However, I wish I could opt to view tweets only from nearby users I follow, and there's no way to block nearby users whose tweets you might find distasteful. (Tapulous says such a method will be available in a forthcoming update.) Because Twinkle's location-savvy functionality works via a proxy server run by Tapulous, only Twinkle users can appear in the Nearby list, and only other Twinkle users can see what city you're tweeting from.
I'm not thrilled about Twinkle's reliance on a Tapulous server as a mediator between your iPhone and Twitter. Yes, that approach lets Twinkle include some clever non-Twitter features such as location-based services, but only for other Twinkle users. When Twitter is down, you'll still be able to send Tweets—but they won't go to Twitter until it comes back up. Likewise, if Twitter is up and the Twinkle server goes down, you could be cut off from the rest of the Twitterverse. And I found it a little disconcerting that Tapulous's TwinkleKing account, who I don't follow on Twitter, was able to send me spam about Twinkle-related contests and the like. You can't block those TwinkleKing messages.
Twittelator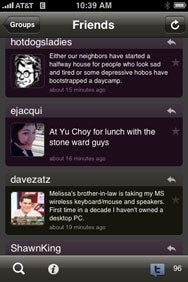 Big Stone Phone's Twittelator is in many ways the polar opposite of Twitterrific. Twitterrific's interface is terrific for reading your friends' timeline and posting tweets, but it doesn't let you dive deep into the features of Twitter. Twittelator, in contrast, has a much less refined interface, but supports every Twitter feature imaginable.
From Twittelator, you can view your friends timeline, your own timeline, your replies, your direct messages, the timelines of other users, the friends of the people you follow, you name it. You can search for text on all of Twitter. If you tap on a friend's icon, you immediately see all their Twitter stats.
If Twitterrific could improve by adding a bit more functionality, Twittelator could benefit from a dramatic tightening of its interface. I found the layout of its main tweet list a bit strange, with numerous small items that were difficult to tap on, and tweet text isn't as readable as I'd like. Yet it's actually the least dense of the three programs, forcing you to scroll more.
Twittelator's most bizarre feature is its "Emergency icon," which according to Stone Design lets you "create a Tweet with a map of your current location." The latest update to the software allows you to hide the button, which is a good thing. Twitter's great and all, but if you're in trouble, sending an automated tweet about it via a button that's easily pushed by mistake doesn't seem like it should be high up on your list of options.
Macworld's Buying Advice
Twitterrific is currently the classiest of the Twitter client apps on the iPhone, but it's got stiff competition close behind. What Twitterrific lacks in features, it more than makes up for by getting the interface and most important parts of Twitter—reading and posting tweets—right.
Twinkle is a lot of fun and quite innovative, showing how location information adds to the richness of Twitter. If only Twitter supported location information in a useful, native way—I'm not thrilled about Twinkle's use of an intermediary server, nor the inability to block unpleasant people who might be near you. Its interface could also use a bit of toning down, at least as an option.
I'm mightily impressed by all of Twittelator's features. If you're someone who frequently surfs around your friends' timelines and the public Twitter timeline, it's a better choice than Twitterrific. If most of your Twitter time is spent reading your friends timeline and posting tweets, it's not.
The good news is, all three of these programs are free, so you can download them for yourself if you're not sure about which one is right for you. (Unlike Twinkle and Twittelator, Twitterrific's free version is supported by occasional ads in the tweet list. You must buy the $10 Twitterrific Premium to block those ads.)
And if you haven't updated your iPhone to version 2.0 (or don't want to download a lot of iPhone apps and risk stability problems), don't fear. Hahlo remains an excellent, full-featured Twitter client that works right within Safari.
All apps reviewed in this round-up are compatible with any iPhone or iPod touch running the iPhone 2.0 software update.
[Jason Snell is Macworld's editorial director.]