The App Store police appear to have struck again. On Friday, it was tethering application NetShare that they were yanking around. It went up on the store, it disappeared, it came back, it vanished into thin air again. Granted, it was an application whose use Apple (and, more to the point, AT&T) was not wholly in favor of, but that made its repeated appearances all the more perplexing.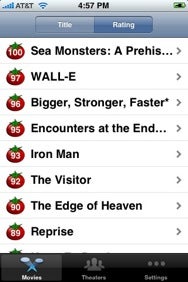 But around the same time, a second application disappeared as well: movie lookup program Box Office. Unlike NetShare, there would seem to be no inherent reason behind the program's disappearance, as there are at least two other similar programs on the store already, both of which are still in place as of this writing.
Furthermore, developer Cyrus Najmabadi has said publicly that he has no idea what reason Apple could have for pulling his program from the store:
Apple pulled the app yesterday without giving my any notification that they were doing it, or what their justification was for removing it.

I've tried to contact them about the issue, but it's been a complete dead end. If anyone has a useful contact number for apple, please let me know.

I'm in regular contact with all my data providers, and none of them have had an issue with my app. Indeed, the response was the exact opposite. They like my app and have even asked if i would do custom application work for them in the future. Furthermore, all the data i use is licensed by the owners as 'free for non commercial use'. i.e. precisely what BoxOffice is.
A mystery, to be sure, and one that we hope will soon be resolved. But for now, it seems yet another case of Apple's penchant for secrecy damaging their relationship with the developer community.
If there isn't already a point person inside Apple for dealing with developer relations on the App Store, then it would seem like now would be a good time to get one.