At a Glance
Expert's Rating
Pros
Easy to learn and use
Broadcasts are mostly clear
Good iPhone and Web browser integration
Can time-shift programs
Can schedule and sync recordings with the iPhone or browser, and watch them remotely
Can share live TV over iChat
Cons
Consumes a lot of system resources, especially for HD playback
Syncing feature interferes with reception
Cannot record one program while watching another
XML program guide is not free in U.S
Some bugs
Running too many apps at the same time diminishes reception quality
Smart zoom feature is annoying
Our Verdict
If you want to watch TV on your Mac (if, say, you don't have an upstairs TV, or you habitually check out one or two programs during the day while you're supposed to be working—I won't tell) TubeStick Hybrid, Equinux's USB TV Tuner, coupled with The Tube 2.7 TV viewing software, may just be the ticket. It's easy to use, delivers a surprising volume of high-quality standard- and high-definition channels, and is reasonably priced. However, those great features are somewhat diminished by a variety of distracting performance issues.
Hardware and setup
There's practically nothing to the setup of the TubeStick Hybrid. It's a small, sleek white device that plugs into your Mac's USB port. Attach the included magnetic mini antenna to capture over-the-air analog and digital TV signals, install the software, give TubeStick the command to download all available terrestrial channels, and you're ready to veg out in front of the tube.
The hardware has two built-in receivers that let you view digital TV and over-the-air HDTV and SDTV digital TV signals, as well as analog TV (including over-the-air analog, analog cable, and single-source analog from a camcorder or game console). According to Equinux, TubeStick also supports a host of other TV receivers, such as Miglia's TV mini HD ( ) and others. We did not test that functionality for this review.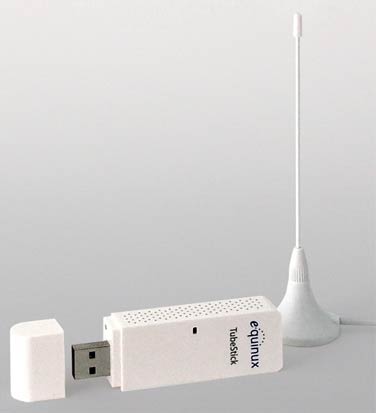 While Equinux recommends an Intel processor for best results, you can also use the TubeStick with a PowerMac G5. I tested this device on a first-generation MacBook Pro Core Duo at home and on my Mac Pro at the office. I noticed some differences in performance, which I'll detail later.
Interface
The TubeStick Hybrid operates from a single window and it's easy to figure out what to do without referring to the manual. The TV viewing area—which you can watch in four sizes, as well as in full-screen mode—is on the left. On the right is a retractable drawer that contains four tabbed panes: Channels, Talk, EPG (Electronic Program Guide), and Library. Everything can be controlled with either your mouse or the Apple remote.
You can access each set of channels separately (splitting them into analog, digital, and cable channels, for example). Talk is an Equinux-sponsored chat room where you connect with buddies who are watching the same show you are, to discuss the program while you watch. I did not have a lot of success with Talk—not because it didn't work, but because there was generally no one to chat with.
Reception
Digital TV reception quality was impressive for many stations, both at my home and in the office. My desk at work, positioned next to a huge window, has a direct line-of-sight connection to San Francisco's Sutro Tower, a broadcast antenna built in the 1970s to improve the city's TV reception, so you can't be in a better place for capturing terrestrial signals. At work, I got a slew of digital and analog stations; not surprisingly, the digital stations were much clearer and static-free. Analog reception on the few English-language stations I could tune in at work was passable, but on the whole, not enjoyable, mostly because of static interference and poor picture quality.
My home office in Oakland is another story—I typically get poor over-the-air reception at home except for stations that are broadcast in Spanish, Chinese, Japanese, and Korean. Nonetheless, I was pleased to discover that TubeStick had very nice reception for many digital stations—and not so good for the analog, for the same reasons as above. But this varied—on some days reception on both was spotty and marred by interference. However, analog TV's days in the U.S. are numbered, so by February 2009 analog reception as a whole will be a moot point.
Record, play, sync
TubeStick's built-in recorder lets you record any program you're watching. You can view your recording on your monitor in iTunes, or you can export it for viewing on your iPhone, iPod, or Apple TV. Using the EPG, you can choose the programs you want to record ahead of time, and TubeStick will automatically record them. All these functions worked as expected, and I found these recordings very watchable. You can automatically sync your programs to iTunes as well as to an online Web gallery called TubeToGo. With this feature, you scan the program guide and choose which programs to record, and then automatically upload those programs to your Web gallery (which is actually hosted by your MobileMe account or your FTP server) so you can watch them whenever or wherever you want. You can even subscribe to them via an RSS podcast. You can also export your channel lists to use with different Macs in alternate locations. Using iChat's Theater feature, you can share programs with your chat buddies in real time—very ingenious.
I had less luck with encoding camcorder recordings. With two different camcorders, the audio contained an unacceptable amount of buzzing, though the video quality was generally comparable to TubeStick's on-air TV recordings.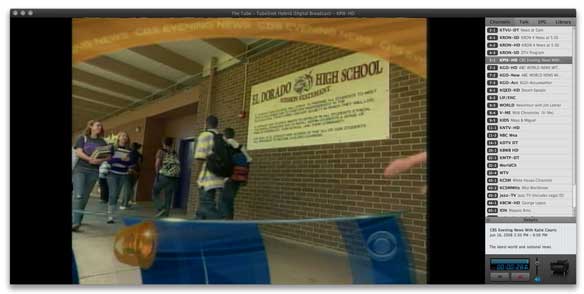 Time shifting
One of the biggest attractions of TubeStick is its time-shifting feature, which lets you pause and rewind a program as you're watching it. A checkbox in the TubeStick preferences allows you to specify that you will want to review part of a program, a function that works seamlessly in the background and does not affect performance. The program's Activity window shows you a timeline so you can keep track of when time shifting begins. The clock starts at 0 for all programs, but time is not preserved across programs, so if you change a channel while the Tube is caching video, you'll lose the saved parts of the program.
The timer also has recording controls so you can record all or part of a program in case you get interrupted while you're watching. If you want to pause a program—to answer the doorbell or the telephone—the time-shifting feature keeps caching the program until you return to view what you've missed. The feature worked very well for the most part. However, it is possible to move the slider bar too far, and when I did that, the app crashed. Equinux acknowledges the problem with HD content, which it plans to fix for the next software version.
MediaCentral
MediaCentral ( ), a utility you can access via The Tube, can also be used as a standalone app with a separate subscription. You cannot use MediaCentral at the same time as you are using The Tube, so despite its integration into the interface of the TubeStick, MediaCentral remains what it had been before—a souped-up Front Row with broadcast capabilities.
System resources and stability
For all its functionality, the TubeStick Hybrid suffered from stability issues of various kinds. Running TubeStick had a large impact on my first-generation MacBook Pro at home, and less of an impact on my Mac Pro at work. That's more or less what I expected. But be aware that if you're using older Macs—even older Intel Macs—you may find it necessary to close down applications in order to get a smooth TV viewing experience. On several occasions while performing different CPU-intensive operations, both computers crashed and had to be restarted. I found that TubeStick ran best when it ran by itself or with a modest number of other apps running at the same time.
Syncing between TubeStick and iTunes or the Internet both expended system resources and often destabilized TubeStick. Reception was a lot smoother and clearer when I turned off syncing. There were also odd kernel panics at various points, and none seemed to relate to anything specific. Equinux says that this problem is likely caused by the OS X command set, not TubeStick itself.
And sometimes, while you're watching, a "Loading EPG" dialog box will appear from out of nowhere. You can cancel this by clicking the Stop button in the dialog, but in those seconds, you miss the narrative of the program.
The recording technology is good, but you can't watch one thing and record another thing at the same time. If you try to switch channels while a recording is in process, it will stop.
TubeStick makes a claim it can't live up to concerning the program guide. Equinux says that program information is available for up to a two-week interval, but I never saw any programs listings past three days. And the XML guide, available in Europe, is not available for free in the U.S. yet. Then there are minor annoyances, such as the clock being on military time, a bug that will be corrected in the next version of the software, according to Equinux.
Macworld's buying advice
The TubeStick Hybrid features some very advanced technology for a reasonable $129. While it's not particularly flexible in letting you do two things at once—record one thing and watch another—and the time-shifting feature can be a little confusing and hard to manage, generally this app lets you do a lot of TV watching on your Mac with a host of considerate extras. You need to take your hardware and bandwidth capabilities into account before you buy. However, if you have a reasonably recent Mac and a broadband Internet connection, you can easily catch your favorite programs via TubeStick. Now if they could just eliminate the commercials.
[Jackie Dove is Macworld's senior reviews editor.]