Much like Mocha VNC ( ), Teleport is a virtual network computing (VNC) client for the iPhone that allows you to see and control Macs and PCs on your network. While both programs do similar things, there are some big differences between the two.
When launched, Teleport will scan your network and find any machines on which you've enabled sharing—you can then select the proper machine, enter the password, and save that connection for future use. This is a big timesaver over Mocha VNC, which requires you to manually set up all servers.
Once connected to a machine, you'll find that Teleport can display all of that machine's displays, and display them at their full resolution. Mocha VNC is limited to one display at a maximum resolution of 1,680-by-1,200. You can rotate the screen horizontally, and use the usual iPhone gestures to zoom in or out on the display. Beyond zooming, though, Teleport offers a full suite of gestures to do those things you'd do on a Mac or PC. A two-finger tap is a right-click; drag is a double-tap, followed by a drag motion; move scroll bars with two-finger vertical swipes; send the Left and Right Arrow keys with a two-fingered horizontal swipe.
Once you memorize these gestures, interacting with a machine on Teleport is much more intuitive than it is using Mocha. It's great being able to easily scroll, drag, and right-click without relying on on-screen keyboards or having to drag a scroll bar with your finger. Another Teleport feature is that it sends mouse events (clicks, drags, and so on) to the location of the always-visible mouse pointer. Mocha, when in mouse mode, moves the mouse pointer to the spot you tapped.
This may seem like a minor difference, but it's actually a huge advantage for Teleport—because your finger's position is independent of the pointer, you can see what would otherwise be located under your finger when using Mocha. If your finger happens to be covering something you want to see, just pick it up and place it somewhere else; the mouse pointer will stay right where it is. After spending some time with Teleport, using Mocha's click-and-set-position method really felt slow and clunky, and my finger was seemingly always in the way of just what it was I wanted to see. (You can avoid this issue by toggling Mocha's screen/mouse button, but I don't always remember to do that, and it's a bit of a pain to switch every time you want to see something onscreen.)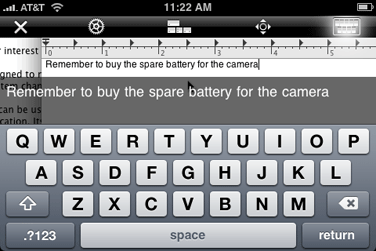 Another innovation in Teleport has to do with the keyboard. When you're typing in a remote program over a network connection, there's always going to be some lag, and that makes accurate typing difficult. To help with that problem, Teleport echoes your typing locally, as seen in the image at right, in an area immediately above the keyboard. This makes it much easier to write accurately, even if the network connection is slow.
Teleport includes the other features you might expect in a remote control application, such as additional on-screen keyboards (including a panel dedicated for use with a media center application) for extra keys, on-screen soft keys for Control, Alt, and Command, and a settings page to disable screen rotation and/or cursor momentum, and set a few other settings. Like Mocha VNC, though, this version will not encrypt your sessions, so it's best used in a local, behind-the-firewall, environment.
So what's not to like? The current version is a bit buggy—I had it crash on me once, and occasionally, the remote screen will stop responding to taps. (Quitting and reconnecting solves that problem.) Also, the program currently won't work with servers running RealVNC, which is more of an issue for those connecting to Windows boxes. Both of these issues are apparently addressed in an update that's in the works.
So that leaves but one (big) question: is Teleport worth its steep $25 asking price? That's a valid question, especially when Mocha VNC is available in a free lite version ( ) and a $6 full version. The answer really depends on what you're looking for in a remote control program for your iPhone. If you want to just check on a remote machine occasionally, and not actually do very much with it, then either Mocha VNC version will probably meet your needs.
If, on the other hand, you need to really work with remote machines, Teleport is a worthwhile investment, even with its current issues. The way you use gestures for control is intuitive, the ability to position your finger away from the mouse cursor greatly helps with usability, the local-echo keyboard reduces typing errors, and the overall interface just feels very well thought out and works well. Add in the auto-discovery of servers, and you've got a winning application—even with the steep admission price—for those who need to really work with remote machines on their iPhone or iPod touch.
Teleport is compatible with any iPhone or iPod touch running the iPhone 2.0 software update.
[Senior editor Rob Griffiths writes the Mac OS X Hints blog.]