With nearly 20 iPhone apps for figuring out tips and splitting restaurant checks, you'd think iPhone owners were bad at math. And perhaps some are. But there are times when such apps can come in handy for even the math-loving among us—I'm often asked to figure out how to split a complex bill, fairly, between a large group of people.
A few weeks back, my colleague Dan Moren reviewed Tipulator( ), which lets you enter a tip percentage and the number of people in your party, providing you with a simple per-person contribution. I recently took a look at iHarwood.com's $1 Meal Splitter v2 (v2.1), which takes a similarly-simple approach, but with a few additional options.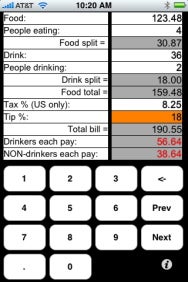 Like Tipulator, Meal Splitter doesn't attempt to figure out exactly how much each person's food and drink cost, instead using a variation of the "divide by the number of people" approach. This is obviously less accurate, but it's often good enough when dining out with a group of friends or family. To use Meal Splitter, you just enter the total food bill, the number of people eating, the local tax rate, and the desired tip percentage. But Meal Splitter includes a nifty feature that will appeal to non-alcohol-drinkers, who often end up subsidizing the libations of their fellow diners: additional fields for the total drink bill and the number of people drinking. The app then provides separate per-person amounts for drinkers and non-drinkers.
(You can also use the Drink field for other items; for example, if only half of your group consumed appetizers, you can enter the cost of the appetizers and the number of people who ate them.)
You can use Meal Splitter as a simple tip calculator by inputting just the total bill and the tip percentage; however, if you're paying the tip separately from the bill, you'll need to manually subtract the food and drink totals from Meal Splitter's total bill field. (A field displaying the tip amount would be useful.) On the other hand, Meal Splitter figures out the tip pre-tax, the way it's supposed to be calculated; several similar iPhone apps screw this up.
Meal Splitter's interface looks positively dated compared to most iPhone apps, and its number-entry system feels awkward at first. You use Previous and Next buttons to cycle through the various fields, tapping the onscreen number pad to enter the appropriate digits in each. I often found myself tapping on a field to choose it, which resulted in, well, nothing. Yet I'm not going to criticize Meal Splitter for this non-standard (for the iPhone) approach, because in this instance, it works better. For an app like Meal Splitter, all you're doing is entering numbers—no letters or other characters—into sequential fields. In such a context, the now-familiar "iPhone way" of entering content—tap on a field, then choose the character(s) to enter, then tap Done, then tap on the next field, and so on—is cumbersome. (As Dan Moren pointed out in his review of Tipulator, having to "spin" onscreen dials is even worse.) My only beef here is that I wish the buttons were labeled with up and down arrows rather than Prev and Next.
In other words, don't let Meal Splitter's appearance scare you away. The graphics won't win any awards, and the red numbers used for the final totals can be difficult to read, but the number-entry system is very efficient once you remember to stop tapping in fields.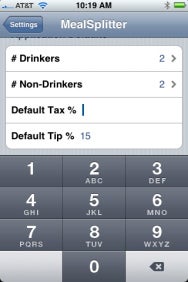 Meal Splitter lets you set default values for the number of drinkers, the number of non-drinkers, the tax rate, and the tip percentage. One limitation here is that the number pad that appears when entering the default tax percentage doesn't include a decimal button, preventing you from entering a fractional tax rate—for example, the sales-tax rate is 8.25 percent here in the San Francisco Bay Area. (The developer told me this will be fixed in a future update.) In addition, in what is becoming an unfortunate trend (thanks to easily-misunderstood developer guidelines from Apple), these options aren't located within the app itself; instead they're found in the iPhone's Settings app.
Features I'd like to see in a future version of Meal Splitter include an option for a pop-up calculator for the Food and Drink fields so you can add up individual items when necessary. (This would also make it easier to use the Drinks field for other items not consumed by everyone.) Also useful would be a button to clear all fields; you currently need to manually delete field contents or, alternatively, quit the app and relaunch it. Finally, I discovered that when Meal Splitter splits the tax and tip between people, it doesn't take into account the differences in contributions between drinkers and non-drinkers; it splits them equally between the total number of people. This may make sense for the tip, but it results in inaccurate per-person tax contributions.
Meal Splitter is a practical bill-splitting and tip-calculating app that should appeal to people who find the usual approaches to divvying up a group's restaurant bill—dividing it evenly, or figuring out down to the penny how much each person owes—too extreme. It's especially useful for non-drinkers, as it gives them an easy (and non-controversial) way to avoid subsidizing the group's grog. Meal Splitter's interface isn't pretty, but its simple approach to number entry works well. On the other hand, the app has a few minor shortcomings, and there are a few features I'd like to see in a future update. Still, at just a buck, it's cheaper than paying for part of a piña colada you didn't even drink.
Meal Splitter is compatible with any iPhone or iPod touch running the iPhone 2.0 software update.
[Senior editor Dan Frakes covers low-cost software in the Mac Gems blog.]